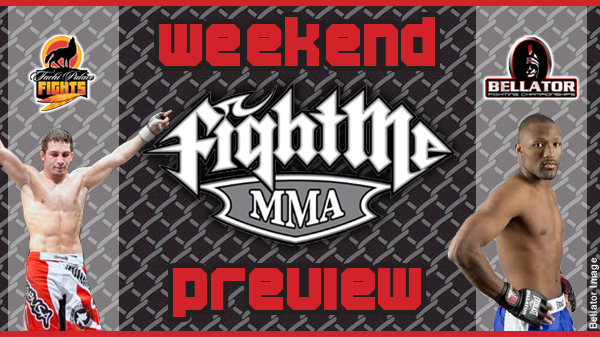 Weekend Preview: April 13th
The region's largest fight promotion returns on Friday before taking the show on the road for their nationwide tour. Fight Me MMA has consistently set attendance records with each event, and this one looks to be no different.

In the main event St. Charles MMA's Zach Freeman takes on the "Magic Man" Bryant Whitaker in a battle of unbeaten prospects. Both fighters have the potential to break through to the national scene, and this fight could be a major setback for whoever comes up short.

Freeman last competed five months ago on the undercard of Fight Me's Veteran's Day show when he defeated Darius Yancy. Freeman was stuck in a holding pattern while progressing through the Ultimate Fighter selection process where he was eventually cut on the final round of 40.

"Its been my longest layoff in a while," Freeman said. "I'm definitely ready to fight."

When asked if there was any additional pressure being promoted to the main event, Freeman responded, "Not yet, tomorrow there will be pressure, right now I'm just focused on making weight."

Also fighting tonight is Strikeforce veteran Tonya Evinger. Tonya has fought all of the top women fighting including Gina Carano, Alexis Davis and Julie Kedzie.

We caught up with Tonya at the weigh-ins and she had this to say:

"Camp went really good. I trained with local girl here, Jessica Halverson. We just pretty much trained wherever we could until the Fight Me Gym gets opened."

Evinger will be training full time once Fight Me's Academy of Courage opens. She will also be spending time there as a coach. In the co-main event Evinger will be taking on "The Vixen" Lacie Jackson, a rising prospect out of Illinois.

"She's young, and has quite a few amateur fights," Evinger said. "I hope this will be a decent fight. I want to keep it standing and go for that knockout bonus."


This will be the second time Fight Me's has hosted a female fight, but not the last. Michelle Ould defeated Gina Gallea in January in the inaugural women's bout. Evinger and Jackson are two of four women competing on tonight's fight card

"I'm excited to get all these girls going," Evinger said. "Fight Me is going to have so many girls on their cards."


The main card breaks down like this:
Zach Freeman vs Bryant Whitaker
Tonya Evinger vs Lacie Jackson
Josh Sampo vs Czar Sklavos
Ray Grindstaff vs John DeVall
Jessica Halverson vs Nikita Netjes

Here are the match-ups for the undercard:
David Sharp vs Jonathan Chandler
Alex White vs Greg Wilson
(A) Tommy Chronister vs Juan Parra
(A) Fierce Taylor vs Damien Newman
(A) Daniel Baynton vs Isreal Lopez

Fights start at 7PM tonight at the St. Charles Family Arena. Tickets are free, but you need to get there early to find a seat. This card and all future Fight Me events will be streamed live on Fight Me's official Facebook page for those who can't make it to the show.

---

Two former Fight Me Gladiators also have big fights this weekend.

EJ "The Pretty Boy" Brooks will be fighting on the Spike.com portion of Bellator 65. Starting at 6pm CST, you can watch EJ take on Mikhail Malyutin in a lightweight contest. Brooks competed for Fight Me in August of 2011 before signing with Bellator.

Brooks' teammate Alp "The Turkish Delight" Ozkilic will be fighting in the second round of the Legends Fighting Championship's "Tachi Tourney." The winner of the tournament will receive a multi-fight contract with Tachi Palace Fights, a prestigious organization out of Lemoore, CA that has seen several of its fighters go on to fight in the UFC, WEC, and Strikeforce.