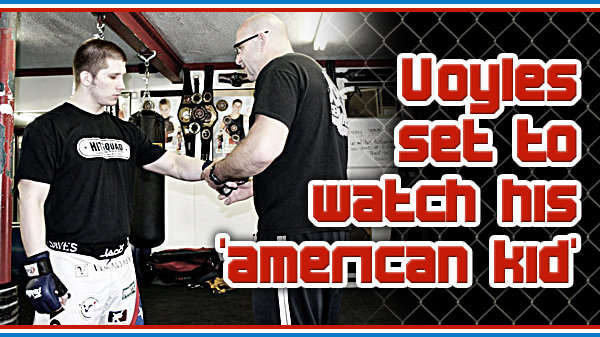 Voyles set to watch his 'American Kid'
It won't be in a bar or restaurant. There won't even be a lot people in the room.

When Benny Voyles watches his son, Justin Lawrence, fight in Friday's The Ultimate Fighter quarterfinal, it will be with a familiar crew and with little fanfare.

Voyles will sit down, more like pace, somewhere in Pacific with his immediate family and familiar cohorts Pat Benson and Nick Bellon nearby.

"It's hard to watch not being there... I have no control," Voyles said. "A local Rent-a-Center offered to come into the gym with three, 60-inch color TVs and Gatorade and I thought about it for the guys here, but I can't be around a bunch of people. I'm so wound up. I know what Justin can do and no one knows him like I do."

Lawrence's story is starting to become more and more known. Voyles raised Lawrence in Pacific all the while running his own gym, 21st Century MMA. Lawrence developed into a national champion kick boxer, an all-state wrestler, and a local MMA phenom before the age of 20. Not soon after that, Lawrence inked a management contract with Team Blackhouse after sparring a few rounds with UFC great Anderson Silva. After three pro fights, 'The American Kid' instantly became one of the top dog's in this season's The Ultimate Fighter.

"So many have doubted his ability," Voyles said. "All of this shows that his hard work is paying off"

In The Ultimate Fighter episode, which will air live on the FX television network at 10 p.m. ET nationwide, Lawrence will face Michael Chiesa in one quarterfinal while James Vick and Joe Proctor square off in the other.

Lawrence has been simply ruthless since the cameras turned on, ripping through both James Krause and Cristiano Marcello.

In a media conference call to promote the fight, Lawrence wisely shrugged off any thoughts of being the favorite to enter his head.

"We all know that being a wrestler and fighting my entire life, records don't mean anything," Lawrence said. "Being a number one pick means nothing. Pressure is what I strive for; people counting me out and this and that. When we get in that cage, we're both 0-0 and honestly, we're all 2-0 right now in this tournament and I'm striving to be 4-0."

Being inside the TUF fishbowl seems maddening. Fighters are not allowed to be in contact with any family or friends. They are allowed to post occasionally on their Facebook and Twitter Accounts.

"We're limited on how we can use that but it's kind of nice to use Twitter a bit," Lawrence said. "Being able to post statuses on our Facebook and being able to use twitter is a lot of fun. When we get a computer, we're all crazy for it. It makes you appreciate the little things in life."

From the sound of things, Lawrence has soaked up as much from the collection of coaches that have passed through the doors.

"We've got Eric Del Fierro and Wilson Reis who have stepped up," Lawrence said. "Lloyd Irvin is a Jedi and he's got a lot of great things that he brought to the table when he was here. Wilson is a phenomenal high level black belt. Lloyd Irvin leaving was a loss but Wilson has stepped up in his footsteps and done a great job with jiu-jitsu."

MMA star Rhonda Roussey even dropped by Team Cruz for a day of judo.

"I never thought the female aspect of MMA was going to live long but having her show how her judo was incredible, it made me respect it," Lawrence said. "The technique in judo and the placement of the hips were two things she really emphasized and I liked a lot. It was really cool to have a high level judo specialist like that show us some sides of judo. It was really cool."

Meanwhile, nearly 2,000 miles away, Voyles feels pretty helpless as fight time nears. He has cornered every fight of Lawrence's career prior to TUF. Voyles was the one who had the answer when a young boy with a bur haircut looked up to him and said, "I want to fight in the UFC."

Voyles has spent the better part of 41 years in martial arts and was a pro fighter for eight years. As a coach, he is a Hall of Famer whose fighters have collected a storage shed's worth of kickboxing, boxing, and MMA titles.

His success with Lawrence has led to another one of his pupils, David Sharp, to sign with Black House. While Voyles has earned the trust of Ed Soares, prospective fighters aren't bulldozing down his door.

"Ed is amazed with our system," Voyles said. "And the fans love Justin's style. The focus is on speed and agility and knowing how to combine what with what. But it's hard. We're always open for anyone who wants to come here and spar. If you're from another gym and are looking to cross train, I don't charge if you get it cleared with your coach."

Voyles and the 21st Century MMA crew have been around the block once or twice and they feel that St. Louis is a potential hot-bed for the sport and think that Lawrence and the handful of others shouldn't be the only ones on the national stage.

"Instead of worrying about local belts, these fighters should get together on Sundays and crosstrain," Voyles said. "I would love to spearhead a St. Louis amateur team versus the U.S. We would kick their butts. There are some studs in St. Louis, let me tell you. But I don't think everyone works well enough together. We have some of the best fighters in the world but they're not around the right people."

Back to Friday, Voyles thinks Lawrence should showcase his takedown skills later in the fight against the long, southpaw Chiesa.

"Justin has to have his head right," Voyles said. "This guy is dangerous. It's a fight and anything can happen."