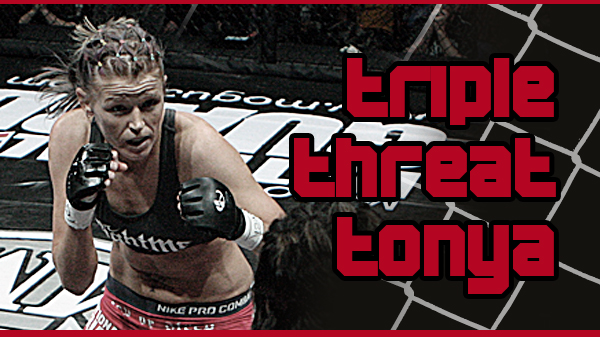 Triple Threat Tonya
A switch of zip codes has allowed Tonya Evinger to catch her second wind.

The 30-year-old Evinger, a pioneer in the world of women's MMA, has set up shop in Lake St. Louis at the Fight Me MMA Academy of Courage where she will work full-time teaching all aspects of the women's classes and restarting her fighting career.

"There are a lot of fighters around here that I'm hoping would come to our gym and start working out with us," Evinger said. "There is so much talent and we don't really need to go anywhere. We have Fight Me MMA that we can fight for. They're always going to put the girl fights on. They're very supportive. There are some girls around the country that said they would move here to train with us."

It didn't take long for Evinger, nicknamed 'Triple Threat' to get a taste of the sometimes cutthroat behavior in the St. Louis MMA scene.

"When I got in town, there was a lot of rivalry and a lot of crap talking," Evinger said. "To tell you the truth, I have no problems with any of the girls in town. I don't think it is going to be hard getting girls over here."

Evinger first made her name as one of the best wrestlers in the country while in her hometown of Odessa, MO. She started wrestling in junior high and became a national champion in high school which led to a scholarship to Missouri Valley College in Marshall. She began training with the women's national wrestling team with hopes of the sport being picked up for the 2000 Olympics. She grew tired of competing in wrestling for 15 years that she decided to give MMA a try.

"In wrestling, your body starts to take its toll and I couldn't handle it and plus I was getting bored," Evinger said. "I moved to Sacramento and started training with a friend in jiu-jitsu in 2004. I couldn't get a fight for two years and finally got a fight and then it was on."

Bit with the fighting bug, Evinger moved around and crossed trained everywhere she could. She called in favors from friends and bounced around to all of the gyms that would welcome her, among them Team Quest. A determined, self-starter, Evinger plugged away at making a name for herself

"I would call promoters and sponsors straight up," Evinger said. "I'm really one to reach out and touch people when I need to get something done."

Of all of her professional fights, Evinger is most frequently asked about her 2007 bout with MMA superstar Gina Carano for EliteXC in Hawaii. Though Evinger lost the fight, some post-fight pictures of Evinger and Carano celebrating quickly circulated around the Internet.

"When I fought her, she had just come out of the woodwork," Evinger said. "It was Elite XC and it was kind of like (Fight Me MMA) in that you are going to get a lot of publicity. There are a lot of people who come and put a lot of time in getting your name out there."

Evinger went nearly two years from 2006 to 2008 without a fight.

"My thing is, I get bored," she said. "I wrestled for 15 years. I was good and I got bored. I was ranked No. 1 in North America. When you don't have a lot of fights and there is nothing to do, you get bored."

Evinger (10-6) has found a comfortable fit with the brothers Nowling, Ken and Michael.

"Maybe Fight Me will help me out and give me a good home," Evinger said. "I'm glad to be here. All of those other shows were just to get me ready for this, I think."

Evinger stepped into the cage last Friday for the Fight Me organization where she made quick work of Lacie Jackson, earning a first round victory by knockout.

"I barely trained," she said. "If (Jessica Halverson) hadn't been here, I wouldn't have trained. I would have just walked in and fought."

But the win over Jackson and the new responsibilities at the Academy of Courage has relit the desire.

"I need to get my motivation back and until I can get more fights, it's not going to happen," she said. "As long as the fights are coming in and working at the gym is going to keep me in shape, I'll be OK."