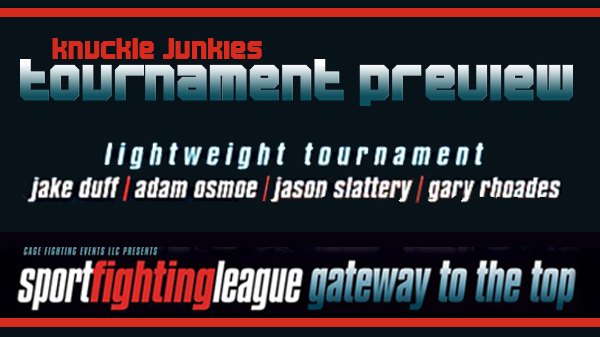 Tournament Preview: Gateway to the Top
The saying "the cream rises to the top" is never more true than with the Gateway to the Top series. The Sport Fighting League is hosting a series of 4-man tournaments to determine the best amateurs in different weight classes. The winner gets a pro contract with the SFL and possible sponsorship opportunities when their coaches thinks it is time for them to make the jump to professional.

The first two of these tournaments ended on March 16th with Travis Draper being crowned top Featherweight and Hugh Pulley the top Welterweight. They each survived a very tough field to come out on top. Hugh won with a brilliantly maneuvered armbar and Travis defeated his opponent with a stunning KO.

For the next series, Jim Jenkins has hand picked a group of up and coming lightweights to battle for supremacy. The preliminary round is this Friday at the Heart of St. Charles with the finals once again taking place at Ameristar Casino, on May 18th. Each fight will consist of 3 four minute rounds.

Here is how the field breaks down for the lightweights:

Jake Duff from Full Contact Fitness is a solid fighter and former SFL Champion. His only loss came from Brandon Knight. He has excellent stand-up and has competed in amateur boxing matches. His record stands at 4-1 as an amateur fighter and 2-0 in boxing.

Taking on Jake will be Adam Osmoe from Xplosive MMA in Hillsboro, IL, a highly ranked high school wrestler who is now wrestling collegiality at McKendree. His greatest strength is his high level wrestling skill. This 20-year old fighter is currently undefeated at 4-0. He trains with featherweight finalist Scott Ettling.

Jason Slattery from St. Charles MMA, and currently sits at 7-2-2 after having fought very tough competition. Currently ranked 4th in the Spire lightweight rankings, but has a loss to Brandon Knight. Trains with the best grapplers in the area at SCMMA.

Facing Jason is Gary Roades from Team Devil Doggz MMA, a very scrappy fighter who likes to overwhelm his opponent with a swarming style. He trains with James Mottershead and Brandon Taylor in Carbondale and has a record of 7-4.

The card will also feature fighters from Berger's MMA, CMMA in Granite City, and Xplosive MMA, among others.


There will be 10-12 bouts on the card with bell time of 7:30.