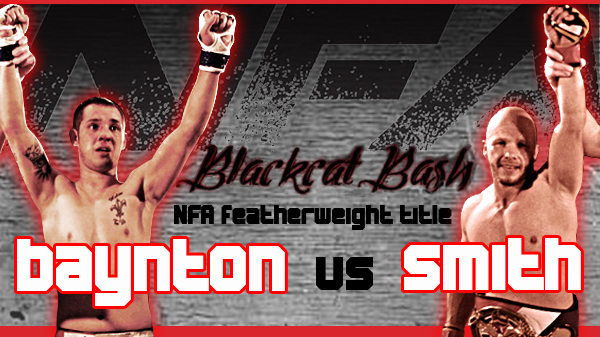 Smith and Baynton clash at Blackcat Bash
On Saturday night in Fredericktown, Nemesis owner Beejay Smith is putting on a benefit show with all proceeds going to Project Graduation and the Fredericktown seniors. The show is billed Blackcat Bash and features an excellent list of fighters from South of St. Louis. David Smith and Daniel Baynton will battle in the main event for the Nemesis Fighting Alliance featherweight title.

When asked about his opponent, Smith had this to say, "He's a very skilled fighter that's really started to shine in his last couple fights."

While impressed with Baynton's recent improvement, Smith sees himself winning the fight. "It will be by submission, surely. I just got to be careful of his armbars which Baynton can setup very nicely and quick."

Smith has recently moved his training to Petosi after joining up with Team Defiance. Training along side tough fighters like Bill Dwyer, Brandon Abuchon, Jake Pelican, and Nick Polittle is already starting to pay dividends.

"Since training there, my conditioning has skyrocketed," says Smith.

"On Saturday when I face Baynton, everyone will see a new fighter in me. I look forward to showcasing that. Good luck to Baynton and may the best fighter win."

Baynton is currently riding a four fight win streak. With wins over Mike Green, Ronnie Harper, and top prospect Ira Lukowsky.

"Both of us are better than our records show."

Baynton has won 5 out of 7 with four submission victories. With a win over Smith, he could easily be in the running for most improved fighter of 2012.

Baynton had this to say about his upcoming fight, "Me and Dave get along well and we have trained together before, but he is trying to come take my belt. I fought hard for that and I don't plan on letting go of it."

Daniel currently trains with Team No Remorse, a team that has started to collect a lot of the local amateur belts.

"Training at No Remorse has given me the preperation to come out and defend my title and prove that I'm one of the top fighters at 145. Andrew Demarco has been there every step of the way helping me along with Jason, Casey, and Tony."

When asked for a prediction Baynton had this to say, "This is going to be a dog fight. I'm coming out there to show that anyone that steps in that cage and tries to take my title, is going to be punished."