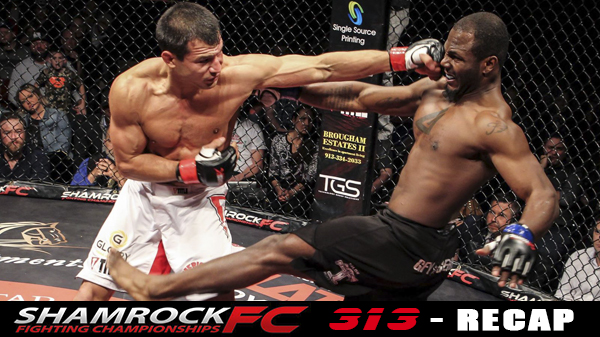 Shamrock FC: 313 - Recap
It's that time of the year again to revisit old friends and share some holiday cheer.

Saturday night Ameristar KC was the festive backdrop for the twelve fights of Shamrock 313. Filled with lords a-kicking, ladies a-punching, one gold belt, and a kimura in the first round.

The main event was a nail biter for the hometown crowd. Kansas City's "Vicious" Bobby Voelker prevailed in a 175 catchweight fight against a tough opponent in Darrius "Beastmode" Flowers, a young upstart out of the "Windy City" of Chicago, Illinois.

The fight started off with Flowers countering off Voelker's strikes. Flowers controlled most of the opening round. A small cut over Voelker's left eye had the crowd holding their breath. Voelker repeated leg kicks and frenetic motion minimized the damage.

"He's always been a stand off counter puncher, so I think he was just doing his normal game plan," Voelker said. "I figured I'd weather the storm, so I was kind of just waiting for it. He had like four or five flurries where he was just throwing big bombs, big bombs, and it wasn't hurting me. I thought 'I'm going to wear him out a bit', I know it looked bad. A couple of uppercuts got me pretty good, but the body shots weren't hurting me, and I knew he was getting tired. He was throwing too much heat."

The second started the same as Flowers worked the body and seemed on track to put away the hometown hero, but Voelker kept moving forward and ate punches along the way. When Flowers slowed, the killer instinct inside Voelker took charge of the fight. Voelker closed in and cornered Flowers on the fence. A "Vicious" kidney shot dropped the hands of Flowers. The following uppercut put the exclamation point on the fight.

"He broke. The heart, the soul broke just like I said it would," Voelker said. "The uppercut was a good shot, but it wasn't a knockout punch. It wasn't a show stealer, it was the fact I broke him.You can call it a KO or a TKO, but I call it, I stomped his heart. I pulled it out, stomped it and it was over. No heart, no go."

Voelker is now 8-1 since an exit from the UFC in the summer of 2014.

"He likes to make it a show," Shamrock FC President Finney said. "Some fighters like to make it entertaining with the way they talk. Bobby is the kind of guy entertains by taking a beating in the first round of every fight. I was concerned, he was getting hit hard with that right hand. Bobby was staying long, using his jab and throwing some good leg kicks. Finally he's like two and a half minutes into the second round he's like 'ok I'm going to turn it on', and he did. I'm super proud of him."




Jacob Thrall played the role of grinch in the co-main event against Dillon Tolbert. Just as quick as the round started Thrall swarmed Tolbert tagging him twice, and down went Tolbert. The referee stepped in and called the TKO at 9 seconds in the first. Surprisingly, this wasn't the fast stoppage on the night, more on that later.

The quick stoppage was not popular with the fans in attendance and they showed their displeasure which continued in the post fight interview. Thrall was undeterred shouting, "Go ahead and boo. I won the fight, y'all didn't".

"Every fight he's always come out with his hands down and chin up," Thrall said. "I just took advantage of that, and happened to knock him out."

The win improves the "Gerber Baby" to 4-1-1, unbeaten in his last four, and most certainly should be considered the favorite for the SFC 135 pound belt.

"I want that title shot. One thirty-five belt, that's mine." Thrall said. "Sharky Slyter if you're out there, this is for you."

SFC President Jesse Finney was quick to defend the ref, and believes fighter safety is paramount.

"The referee is a thankless job, but tonight he made the right call," Finney said. "It was a good fight, I just had wished it had gone a little longer, I had called it earlier as the fight of the night. The smaller guys get in there and get after it and go."

Horacio Escobar had a skillful victory over Drake Heitfield. Heitfield was the aggressor and took the fight to the ground early, but it didn't seem to phase Esboar. Escobar, working from his back, slapped on the kimura and earned the submission victory, the second of his pro career. The win improved him to 5-2 snapping a 2-fight skid.

"I've got a really good training partner," Escobar said. "She's just not my training partner, she's also my life partner. She's been keeping me super busy and keeping me in the gym. Following her lead and staying in the gym with her kept the rust off. She won tonight by rear naked choke, and I won by submission as well. We're doing something right."

Zach Scroggins won the amateur middleweight title with a unanimous decision.

"After the second round, I just felt winded," Scroggins said. "I've never been pushed to the third round before. It was good experience because I've never had that adrenaline dump before. I've gone 30 minutes in training with Kelvin Tiller before, but I've just never had that adrenaline dump. I felt good, but I've got a lot to work on."

One for the record books, Shane McKay landed the first punch of the fight and KO'd his opponent at just 4 seconds to record the fastest stoppage in Shamrock FC history.

Shamrock FC returns to KC on February 2nd.

Photos courtesy of Jeff Vulgamore

Full results:
Bobby Voelker DEF Darrius Flowers - TKO 2:00 2nd
Jacob Thrall DEF Dillon Tolbert - TKO 0:09 1st
Horacio Escobar DEF Drake Heitfield - Kimura 1:44 1st

Zach Scroggins DEF Isaac Lyons - Unanimous Decision
Andrew Floyd DEF Regina - TKO 0:59 1st
Connor Shepard DEF Edwin Rowe - Unanimous Decision (Kickboxing)
Lainey Nations DEF Krista Camarillo - RNC 1:51 1st
Logan Pirl DEF Cody Gillenwater - Unanimous Decision
Shane McKay DEF Taylor TKO 0:04 1st
Kayla Williams DEF Sims TKO 1:27 1st (Kickboxing)
Jake Wilson DEF Keenan Richcreek - TKO 0:27 1st
Hunter Gore DEF Daryoosh Noori - Unanimous Decision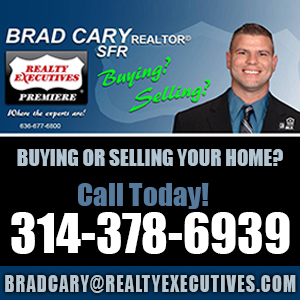 KCFA
| Sat, August 24th
Independence Event Center, Independence, MO
Shamrock FC: 322
| Fri, September 6th
River City Casino, St. Louis, MO
Sub 5
| Sat, September 21st
TBA
Nemesis Fighting Alliance
| Sat, October 5th
Casa Loma Ballroom, St. Louis, MO

Tweets about "KnuckleJunkies OR @knucklejunkies"