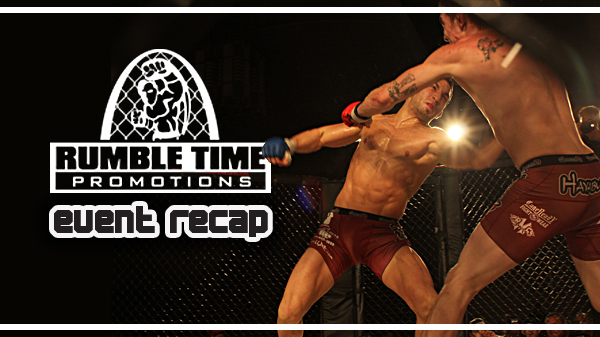 Rumble Time: Collier vs Butterfield - Recap
Jake Collier got by far the toughest test of his young career in the main event of Friday's Rumble Time MMA at Ameristar Casino.

Collier ran into a tough, gritty Cully Butterfield out of Roufusport in Milwaukee at a 190-pound catch-weight. Though Butterfield neutralized Collier's dynamic striking, the Cuba, MO., product showcased a ground game that is above-and-beyond- par to win a unanimous decision.

In the first round, the two worked against the cage before Butterfield, a former NJCAA All-American wrestler, took Collier down for the first of two takedowns in the round. But Collier's raw power got him out of the unfortunate situations and he worked three different submission attempts before landing a big knee to end the round.

Collier was visibly spent from all of the ground work in the first round. The second round started for Collier with an inadvertent eye poke and low blow. Once he regained his bearings, Collier went back to work, getting a takedown and then opening up a cut on Butterfield with a short, crisp elbow. A bloodied Butterfield continued to push through before referee Mike England called from the cage-side physician to inspect Butterfield. Action resumed in the round with Collier once again displaying his hulking strength, powered Butterfield to the canvas.

Like much of the fight, the action in the third round was back and forth before Collier landed a thundering slam and finished the night in dominant position. The win improved Collier's record to 6-1 while Butterfield dropped to 11-4.

Check back Monday for interviews with Collier and a handful of Friday's other winners.

In the night's co-main event, Alp Ozkilic showed why he has some of the best (if not the best) wrestling in the region in his bout with Ray Grindstaff. Grindstaff out of CMMA in Pontoon Beach, opened the fight with some aggressive standup and landed some quality shots. But Ozkilic, who did trade early on, did what he does best; put his opponents on his back. Ozkilic smothered Grindstaff for most of the first round before Grindstaff worked a kimura late in the round that was potential fight-ender.

Ozkilic would fight the second and third rounds pretty much the same; landing some nice, powerful strikes early and then finishing them grinding Grindstaff into the canvas. The St. Charles MMA/Team Vaghi product would go on to win a unanimous decision.

Destruction MMA's Alex White continued his unbeaten streak with a second round TKO victory over Charon Spain, out of Walla Walla, Wash. The difference maker in the fight came at the end of the first round. After White broke free from a submission attempt he landed a powerful, crisp knee to Spain's liver just as the horn sounded to end the round. Spain spent a long time between rounds down on the canvas as England determined whether he could continue. Spain may have wished he had called it quits then as White, an extremely powerful 145-pounder, continued to work him over as Spain gave up his back midway through the second and ate several strikes. Spain failed to answer the bell to start the third and White earned his fourth-straight victory to start his pro career.

Dan O'Connor, out of Berger's MMA, once again showed his slick jiu-jitsu skills under the Rumble Time banner. O'Connor submitted Carson Gainey with a smooth heel hook to get a first-round submission just minutes into the fight.

Jake Trtanj had about four years worth of ring rust heading into his fight with Mid-America MMA's Jeff Escobar. Trtanj, out of Watson Martial Arts, hit Escobar with shot after shot for three rounds and Escobar showed why he one of the most durable chins around. Trtanj would go to win the unanimous decision victory.

On the amateur side, Kyle Walker won by decision over TJ Casey. Jason Powell also won by decision over Anthony Edwards. Jeradon Brown made quick work of Scott Ettling. Brown landed a big right hand before sinking in a rear naked choke to earn the win in 37 seconds.

Fighting for the first time for Rumble Time, Bo Kunz won by TKO in the first round over Jordan Dowdy.

Gabe Stein choked out Brian Klenc with just seven seconds left in the third round. Despite giving up 13 inches to Keelan Moore, Drew Ingrande won via ground and pound in the first round.

Jon Rosener started the night off with a second round submission over Tre Crawford.