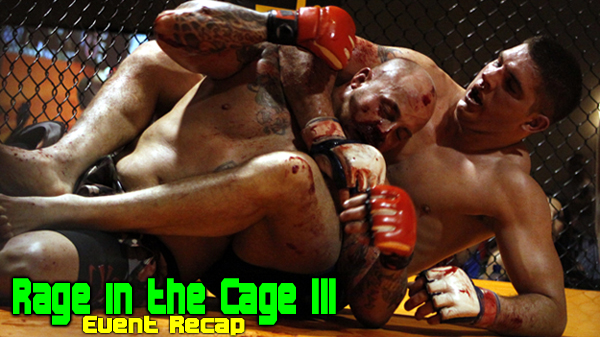 Rage in the Cage III - Event Recap
Fort Riley Combatants invaded South County and an MMA event broke out. South County was host to 15 amateur MMA matches Saturday March 31st. Here's the rundown:

A majority of the fighters on the card hailed from South City Fight Club with another large contingent from Kansas gym Fort Riley Combatants. Also on the card were fighters from gyms such as Berger's MMA and Alpha One. Fort Riley Combatants won as a team going 6-0 for the night.

Main Event 155 Harlan FEUTRAL vs Mike GREEN
Being the third match up between these two, each with a win, this bout was set as a deciding match. It began with a flying start showcasing the highest kicks of the night. Green connected more consistently with the kicks early. As the fight went to the ground both men remained very active. Punches from top and bottom position for both and a constant battle for position closed out the first round.

The second and third rounds played out very similar with Feutral securing an early take down and roughing Green up from top position. Green battled and scored with striking from bottom position but the overall control and strikes of Feutral from top position earned Feutral the split decision victory.

The bout was very even and the split decision reflects that.

140 Israel LOPEZ vs Kris HETLAGE
The standard operating procedure for the Fort Riley Combatants for the night was to pick up, slam, and work to full mount. Lopez did just that earning a submission victory with a rear naked choke at 1:43 in the first round.

185 Brandon MOORE vs Danny WRIGHT
The wrestling ability of Wright proved too much for Moore with Wright securing a shoulder lock submission victory in the second round.

155 Sean BEVIN vs Kevin SIMPSON
Simpson won a sprawling ground battle by way of submission due to choke in the first round.

250 Nate JOHNSON vs Edwin WILLIAMS
Williams countered wild punches by Johnson. A standing rear choke earned Williams a quick first round victory.

185 Matt BETHEL vs Tim MANTLE (pictured)
This may have been the Fight of the Night, most certainly the bloodiest.

First round was an exchange of big punches and a big slam. Both men put everything they could into each punch.

Second round starts with each physically drained from the wild first round. Late in the round Bethel secured a take down with full mount. The ground and pound won the round.

Mercifully the bloody battle ends in the third round with a rear naked choke by Bethel.

165 Buck MONTGOMERY vs Chris LAMPE
Montgomery wins by KO in the first 16 seconds.

185 Qshawne PRYOR vs Demond DORSEY
Pryor controlled the fight with ground and pound all three rounds earning a unanimous decision.

185 Jason BECKER vs Chris EVELAND
Wild scrambling fight. Eveland tackled Becker into a rear naked choke in the first round.

145 Stephan BENJAMIN vs Aarad JOHNSTON
A good ground battle started with a slam by Benjamin. Johnston reversed the position off the cage ending the first with good ground and pound.

A close technical ground battle ended in a split decision with Benjamin edging out Johnston.

165 Matt VAINOSKI vs Jason NEWMAN
Vainoski unanimous decision.

155 Justin OVERTON vs Bryant CRITES
Overton victory by rear naked choke in the first minute.

205 Randy KOWSERT vs Jason WASHAUSEN
The wild style of Kowsert caught Washausen with a spinning back fist as he shot in. Kowsert wins by TKO stoppage in the second minute of the first round.

135 Antoine JOHNSTON vs Joshua FIEWEGER
Johnston TKO victory second round.

185 Charles GUILETERI vs Andrew DECKER
Guileteri TKO victory first round.

Cagetime Promotions returns Saturday, June 23rd with an outdoor event at the South County Mall.