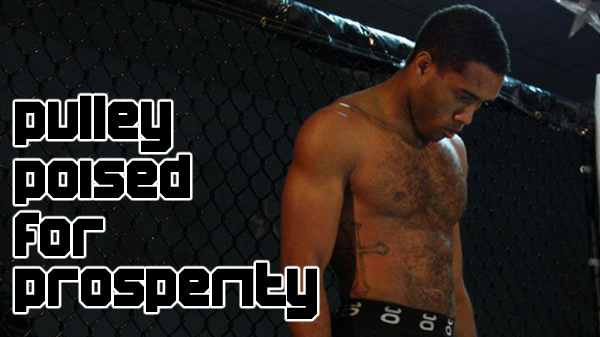 Pulley poised for prosperity
Both inside and outside of the cage, Hugh Pulley paints a pretty picture.

An artist since he was a child, Pulley is just getting a taste of the great things he can do athletically.

At 23 years old and little over a year-and-a-half into the sport, Pulley has already made big time waves, winning the Sport Fighting League Gateway to the Top Welterweight tournament on Friday. He also holds the Faction and Spire Welterweight straps.

The Wolverine is now at 11-2 as an amateur, Pulley wrestled while at Parkway North high school but never reached the state tournament. A few years later, some friends nudged him toward the cage and before he knew it, he was in his first mixed martial arts bout.

"I threw caution into the wind and just did it," Pulley said. "I put the guy to sleep with a triangle. It was kind of creepy because everybody thought I killed him. I was flabbergasted. I thought maybe I could do this."

It was during wrestling that he fell in love with one-on-on combat.

"With individual sports, you can't blame it on us, you blame it on you," Pulley said.

Blessed with tremendous athletic ability, Pulley is motivated not to be just that; an athlete.

"I want to be a mixed martial artist," he said. "I do this whenever I get a chance. I don't play video games, I kinda stopped going to school so I can focus on fighting."

Pulley would rather his time and effort goes towards something to make him better physically, mentally and spiritually, not just to cash a check.

"I like to sweat in the gym," he said. "I like to sweat for a purpose. I like knowing that I'm making myself better. That is why I train anything I can whether it's Tai Chi to mixed martial arts to kempo."

Pulley was known for his hands. But after winning a close decision over Adam Merideth in the first round of the Gateway tournament, he came back and won by an arm bar submission in the finals against Scott Ettling.

"I need to work on my stand up a little more," Pulley said. "That is how I usually beat people and that his how I built a reputation of not being able to hold my own on the ground or throw submissions. I just need to work on being more well-rounded. I like people guessing where I'm coming from."

Though the colors he uses to paint his masterpieces inside the cage are primarily crimson, black, and blue, Pulley also enjoy flexing his creative muscles.

"I've been drawing logos for our team," he said. "I've been doing that since I was a little kid. I have a lot of animated stuff. I have a lot of real life and people and portraits."

Along with fighting and drawing, he has found a new passion; coaching. He loves lending a hand at his gym, Alpha 1.

"I do it when I'm waiting for a fight," Pulley said. "I focus on the main concept of mixed martial arts. I don't want everybody going into the cage and just fight. I want them to strategize. I want them to move. It's more than brawling."

Spoken like a true artist. A true mixed martial artist.