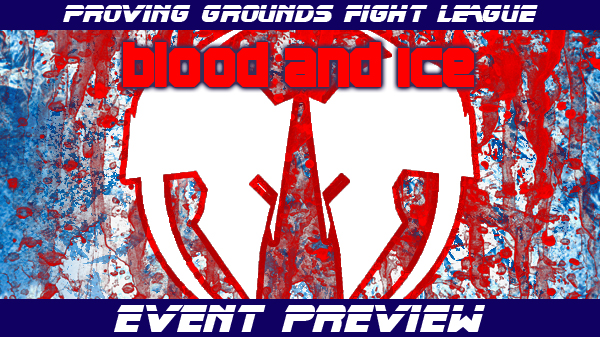 Proving Grounds: Blood & Ice - preview
Eric Clarkson and the crew from Proving Grounds MMA have consistently put on great amateur events at the South Broadway Athletic Club, attracting several of the top local amateurs to its cage. On Saturday night they close out their season with "Proving Grounds 10: Blood & Ice"

There have been many memorable moments inside the Proving Grounds cage this year, Here's a look back at some of the best:

In January, the promotion saw Tony Souders defeat Jonathan Stotler rather quickly via guillotine choke in the main event. There was a lot of build-up for this match, and if there were any questions about Souders claim to being one of the area's top amateur light heavyweights he answered with a resounding statement. An exciting bantamweight match-up was marred by controversy when Ira Lukowsky was DQ'd for an illegal headbutt in his match against Daniel Baynton. The night was highlighted by the awe inspiring comeback of 40-year old Brian Kain when he submitted Danny Wright with an armbar late in the third round.





Proving Grounds returned in April for a main event that saw Bo Kunz defeat an out of town challenger, Bradese Powell. Kunz dominated all facets of the competition and cruised to a decision victory. In the process, Kunz picked up the interim 205 title. The event was highlighted by a fight of the year candidate between KJ Jones and John Davis. The two battled to a razor-thin decision with Jones picking up the victory and the Proving Grounds lightweight title.





In July the promotion teamed up with Gateway Fight League for Collision Course for an event at the St. Louis Sports Center in Afton. This card featured several popular fighters from both promotions on display. The main event saw Buddy McGinnis defeat CJ Hunter in a very technical ground battle. Both of the Harper brothers, as well as newcomers Andrew Sanchez and TJ Casey, were in action and all were victorious.





Saturday will be the final event of the calendar year. With four titles being contested, it has the making for a great show.

In a rematch of what we consider one of the best amateur fights of the year, Bo Kunz and Scott Futrell will go at it again. Back in August, the two went at it for a three round slugfest. Futrell won the narrowest of split decision victories. Many in attendance that night felt the judges had it wrong, and Kunz will be hungry to prove them right. Will Futrell make use of his superior height and range, or will Kunz be able to make adjustments needed to win? This could be the fight of the night.

Spire No. 1 Bantamweight Charles Johnson is riding a wave of momentum going into Saturday night. The young fighter out of Porter MMA currently sports a record of 12-0-1 and opponents have been hard to come by. With both Ira Lukowsky and Fierce Taylor unable to compete, it looked as if Johnson would not get to compete. Fortunately the promoters found Mark Chappell. He will look to solve the Charles Johnson mystery.

Mike Green and Ronny Harper are familiar names in the local circuit and on Saturday night, the two will tangle. This is the first meeting between the two popular locals. Green has been nursing a foot injury, but claims to be 100-percent for this bout. With Harper having a definitive edge in the athleticism department, the crafty Green will have to out-heart and out-smart his opponent to claim victory.

Also on the main card is Ronnie Farmer and Anthony Kuhn. Farmer has stated this will be his last fight.

Announced fights:
Mike Green vs Ronny Harper
Bo Kunz vs Scott Futrell
Ronnie Farmer vs Athony Kuhn
Charles Johnson vs Mark Chappell

Tim Mantle vs TBA
Tracy Lynn vs Ronnie Lawrence
Jason Murray vs Chris Seip
Dan Schaab vs Jesse Farmer
Monutelle Prater vs Joe Roye
Royal Shirmer vs Jennifer Reed
Houston Reiger vs Waylon Miller
Greg Schneider vs Joe Shaw
Mike Ofor vs Chris Eveland (K1)

Check out our interview with Eric Clarkson, Jay Goehring, Scott Futrell, Charles Johnson, and Mike Green!