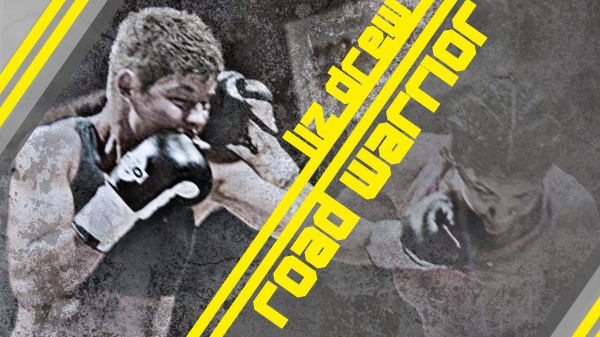 Liz Drew - Road Warrior
Being a female fighter requires a certain list of traits; you need a good chin, quick feet and hands, and also the ability to hop a plane at a moment's notice.

When you're a female boxer, you're part of a special club, a very exclusive, and unfortunately small group of athletes. Fights can be scarce, they often come without much notice, and almost always require travel.

Because the number of female boxers are limited, finding training partners requires mixing it up with the opposite sex, who more often than not are bigger and stronger. In the event you do find another woman in your weight class who's willing to help you train, better fill up the gas tank because you're in for a drive.

Liz Drew has been boxing professionally for over 12 years. She started in Shaolin Kung Fu and eventually moved onto Chinese Sanda. Sanda also known as Sanshou is a martial art originally developed for the Chinese military and mixes traditional Kung Fu with modern fighting systems.

After her instructor left the country, Drew found herself visiting a boxing gym to get in some sparring rounds. Within a few weeks she had her first pro boxing match.
That is not a path that should she would recommend.

As the only female trainer in the area, Drew has taken on a coach's role as she waits to find fights. Drew joined Sauer MMA three years ago as the team's boxing instructor, and the results speak for themselves with several of her students finding success in MMA.

Spending the extra time in the gym allows Drew to stay in fight-shape should a bout materialize.

"You have to train no matter what," Drew said. "Because you can get a call for a fight within a week."

A veteran of over 22 professional boxing matches, Drew has traveled far and wide seeking competition.

"I've fought in Atlanta, in Canada," she said. "I've fought in Rhode Island. Pretty much wherever they call. I didn't have to have a promoter in Jeff City or St. Louis, so I have to travel."

The struggle to find fights is often exacerbated by promoters reluctant to pay extra costs incurred by having a fighter flown in.

"There aren't many opponents," Drew said. "Here I sit a lightweight female boxer in Missouri and there is no opponent in driving distance. So I can't get a promoter to put me on the card because they won't pay money for travel."

Although centrally located in the Midwest, Drew doesn't believe geography is the issue. This is even a problem experienced by fighters in the unofficial fight capital of Las Vegas

"I have a friend who is a flyweight in Vegas, she's desperate to get a fight," Drew said. "She's lucky to get one fight a year."

While there are many obstacles in her way, including her seasoned record, camaraderie keeps Drew positive.

"One major difference in women's boxing is that we all know each other personally," she said. "We're all on the same side as we're all going through the same struggles trying to find fights, trying to make weight."

The prospect of MMA fights is often brought up, but as a professional boxer Drew would have to compete on the pro level. Getting tune-up fights would not be an option, and Drew would have to jump into the deep end of the pool.

"I am taking some wrestling and jiu-jitsu classes now just to be a better coach," she said. "If the right opportunity appeared I might consider it, but I don't want to disrespect MMA by thinking I can go in there just as a boxer. That's ridiculous."