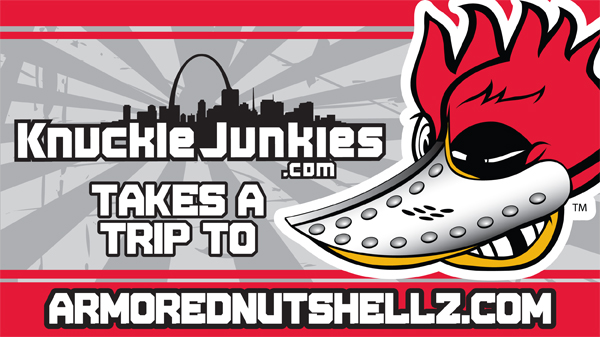 KJ Takes a Trip to Armorednutshellz.com
By
Staff
| Knuckle Junkies
Two of the best things about being a part of the Knuckle Junkies crew are the people you come across and the things you get to do.

So, when I got offered the chance to try and put a bullet through a groin protective cup, how could I resist?

Nestled in the tight turns and narrowed roads of Jefferson County, Jeremiah Raber has masterminded and birthed a one-of-a-kind piece of athletic equipment.

Nutshellz is a bullet resistant groin protector and I ventured to see if such claims were true.

Despite spending 30-years of life in camouflage-covered Southern Illinois, I have never really given two squirts about guns. Though I'm sure I must have at some point, I can't even recall shooting anything more powerful than mere a pellet gun.

After pondering Raber's offer, I figured, why go to a pistol range when you can do something truly unique.
Raber is as brainy as he is brawny. And he tried to dumb it down for me in explaining how he developed this product, which is being embraced by both full contact athletes and military and police professionals.

Carbon fiber, stacks of Kevlar, Dyneema (which I learned is the strongest fiber on the planet) and many other ingredients go into this unequal stew.

Raber goes into all of the fine points and describes the process much better than I could on his informative website: armorednutshellz.com.

The cups aren't cheap, but neither are the pieces that make the puzzle.

" I've made no profit yet and refuse to cheapen my product to do so," Raber said.

He was inspired to begin the creation after seeing his favorite fighter, Matt Hughes, fight George St. Pierre and soon after taking a hard shot to the man region, eventually losing his welterweight championship.

Nearly six years later after storming out of that bar that night he has seen his idea come to fruition.

"I didn't expect to leave the bar that night thinking about the best ways to protect a pair of testicles, but I just thought there had to be a better way to absorb the shock from a misdirected kick to the groin," Raber said. "I guess this is when I had an epiphany, the moment I pieced together a game plan."

Word of the cup and its superiority has started to spread like wildfire as UFC vets Jake Ellenburger and Lance Benoist along with a handful of some of St. Louis' top pros are some of the fighters who have jumped on board Armorednutshellz.

Back in Jefferson County, Raber positioned the cup a few feet in front of me near some thick stacks of firewood and gave perfect instruction.

I relaxed and squeezed and when I heard the pistol snap all I could come up with was, "Holy shit, dude."

While I was still listening to the shot hang in the air and in awe of the power of the Gloc, Raber simply and calmly took the gun from my hand and ran up to see the result. He had shot hundreds during the creation process.

When he came back, I couldn't believe it, but I hit the thing. And sure enough, the bullet didn't break on through.

Whereas a roundhouse kick can actually shatter some plastic cups, this thing won't crack if you shoot it with a pistol.

And if you want to check out a truly distinctive and valuable product whose idea was spawned and is manufactured in the good 'ol STL, go to armorednutshellz.com or look them up on Facebook.