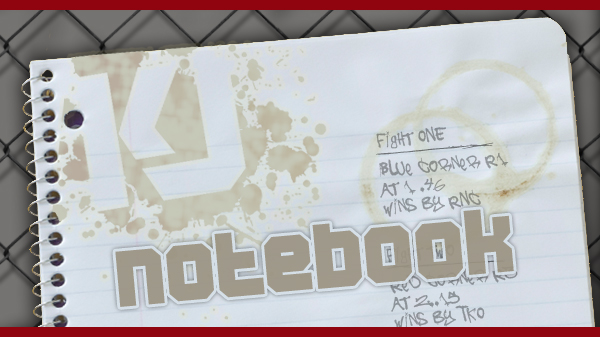 KJ Notebook: November 5th
By
Staff
| Knuckle Junkies
It's hard to keep the lid on the boiling pot of news at Finney's MMA and Shamrock FC. All signs are pointing toward a potential blockbuster 2013 for the organization.

Jesse Finney is keeping his fingers crossed, hoping to announce a television deal for Shamrock FC events at Lumiere Place to start the New Year. He has also fielded numerous calls concerning Adam Cella's involvement in the upcoming season of the Ultimate Fighter, to which he will neither confirm nor deny.

One thing he can't deny is the added oomph in the SFC end of the year card. A win by local striker Kevin Engle over Jefferson City's Gary Tapusoa in the main event could catapult the sharp pugilist to greater professional heights, Finney indicated.

The main card also features Ricky Bolin, Shelby Graham, and the return of Josh Weston. Malcolm Smith and Jake Buehler from Hahn MMA are making their promotional debuts with Shamrock. Smith, who will be turning pro, will take on the very tough Vincent Eazelle from Geyston Martial Arts in Springfield, IL.

"The TV people have been at our last two events," Finney said. "We're going to step it up a little bit more for our December card. Fans like stand up wars and that is what they're going to get that with Kevin Engle, Malcom Smith, Ricky Bolin."

Finney celebrated 15 years in the business in October. He called the December show his best-selling card as an organization.

Plans are in place to open a gym in the St. Charles area in 2013 as well.

SFL announces 2013 schedule

The Sports Fighting League has begun forming their 2013 schedule, this will include 4 amateur events and 2 Pro/AMs. First up on the schedule is February 8th at the Heart of St. Charles.

The promotion will once again be organizing and hosting the Gateway to the Top tournament which are four-man tournaments at different weight classes with the finals being held at the Pro/AM event. Winners of each tournament will receive professional contracts and sponsorship opportunities.

If you're interested in competing in the tournaments have your coaches or managers contact Jim Jenkins at cagefightingevents@yahoo.com.

Cobb added to Bellator main card

Local middleweight Darryl Cobb has been added to the Bellator 80 main card.
Cobb, out of Andre's MMA, will take on Brett Cooper (16-7) and Darryl Cobb is 5-5 and has fought one time for the organization prior.

Bellator 80 takes place Nov. 9 at Seminole Hard Rock Hotel & Casino in Hollywood, Fla. The MTV2-televised main card follows prelims on Spike.com.

Cooper is on a 5-2 run, that includes Bellator wins over Valdir Araujo and Jared Hess.

Cobb lost to Andrew Sanchez in August under the Fight Hard banner. Cobb has lost four straight and hasn't won since April of 2010. He started his career with a 5-1 stretch that included two wins for Strikeforce.

Spire to have welterweight tourney

Spire Sanctioning Alliance is reporting plans are underway for a welterweight tournament after the first of the year. Some of the names confirmed for the tournament are: Jake Roberts, Kain Royer, Heath Hilderbrand, Anthony Livingston, and Daniel Schabb. Another possible entry into the tournament is Chad Williams, who has looked very impressive, and would be a sure early favorite. If you're interested in being considered for the tournament, have your coach or manager contact Jason Cooper at spiremma@hotmail.com.

Two matches tentatively scheduled for the Janurary 26th Cage Champs are: Jake Roberts vs Jesse Gerringer and Kain Royer vs Heath Hilderbrand

Noticeably absent from the list is the area's best welterweight Hugh Pulley, who is expecting to turn pro soon. Also making the jump to the professional circuit is Kyle Walker, a finalist in the Gateway to the Top Tournament this past summer. Walker was recently victorious over a very tough TJ Casey in a three-round war that saw Walker getting the nod from the judges.

The finals of this year's bantamweight is still being decided with Ira Lukowsky and Fierce Taylor set to do battle with the winner to face Charles Johnson.

SCMMA/MuttsNStuff calendar

St. Charles MMA teamed with local animal Pit Bull rescue organization Mutts N Stuff to put together a one-of-a-kind calendar.

Titled "Misunderstood", the calendar pairs SCMAA's top-flight pr fighters like Matt Ricehouse (Strikeforce), Josh Sampo (world ranked), EJ Brooks (Bellator), and others with canines of all types in high quality format. Orders can be made here.

All profits go to help Mutts N Stuff and a release party will be held next Friday night at the Tilted Kilt.

Fighters, coaches, promoters, are encouraged to submit information on your gym and/or upcoming fights to info@knucklejunkies.com.