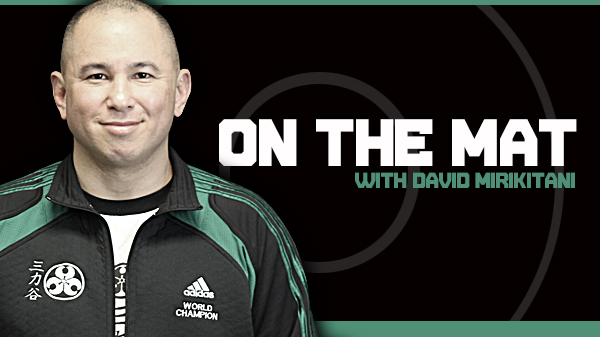 Introducing: On the Mat with David Mirikitani
David Mirikitani is the son of legendary teacher, coach and martial artist Ron Mirikitani, an 8th degree black belt (or red & white belt) in karate, judo and jiu jitsu.

David had a decorated high school wrestling career where he won 3 state titles and was voted the Outstanding Wrestler in the state twice. He is the only wrestler from Kirkwood high school to be inducted into the school's Hall of Fame. In addition, he was a 5 time All American in Freestyle and Greco Roman wrestling, highlighted by winning a Cadet National Title and earning the Outstanding Wrestler award. He was an Asics All American, Wrestling USA All American, USA Wrestling All American and Amateur Wrestling News All American, as well as being selected to represent the USA in the USA/Pennsylvania Dapper Dan Classic and the USA/Oklahoma Dream Team Classic.

In college David was a 2 time All American which included a national runner up finish. He was also selected to represent the USA in international competition and placed 2nd in the Canada Cup and 6th in the Austrian Grand Prix. Additionally he earned 6 more All American honors in Freestyle and Greco Roman, 3 in each style.

As an assistant head coach to his father, Mirikitani coached and mentored 7 national champions and over 70 All Americans. His wrestlers have won state titles, junior college, NAIA, division II and division III national titles & division I All American status. He has also worked with Olympic Team and World Team Members and Medalists and UFC, Bellator and Strikeforce Fighters.

Following his wrestling career Mirikitani has had a successful record in jiu jitsu under the mentorship of his father. He has won a gold and silver medal in the IBJJF Gi World Championships and 2 gold medals in the IBJJF No Gi World Championships, along with a 3rd place finish in the IBJJF No Gi World Championship Absolute Division.

David's wrestling column will be part of our Complete Fighter Series and be featured on the website on the fourth Thursday of ever month.

If you have questions for David or are looking to setup lesson contact him on Facebook or call: (314) 550-4186.