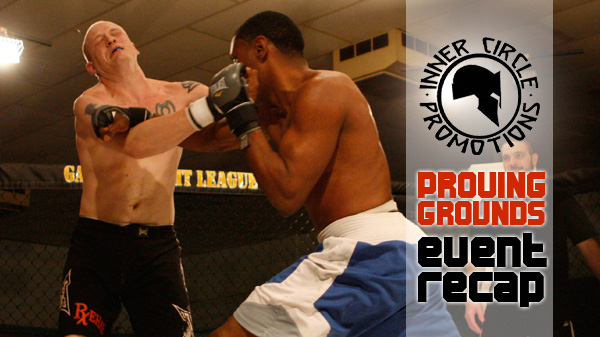 Inner Circle Proving Grounds Fight Results
Fight 1: Bo Kunz vs Jason Patton - K1 Winner: Bo Kunz, Round 2 - Doctor Stoppage Summary: This was a special K1 rematch of a MMA fight in December. In round one, Kunz seemed to land more quality shots than his opponent working head and body combos and finishing the round with a series of leg kicks. Early in the second the Doctor was forced to stop the fight as Patton gets sick in the cage and could not continue. Fight 2: Charles Kivelehen vs Kevin Chatman - K1 Winner: Kevin Chatman, Round 1 - TKO Summary: Chatman staggered his opponent with a stiff jab and followed with some solid hooks to the head to finish his opponent halfway thru round one. Fight 3: Kelwyn Maulden vs Brad Grissom - 215lb Winner: Kelwyn Maulden, Round 1 TKO Summary: Maulden caught his opponent charging in with a hook, and finished him off seconds later with nasty punches. Fight 4: Nathan Dieckman vs Jesse Geringer - K1 Winner: Jesse Geringer, Round 2 - TKO Summary: Heavy leather traded in round one with Dieckman throwing wild, looping punches and Geringer mixing it up with kicks and hand combinations. Geringer lost a point due to an illegal knee to the head late in the round. In round two, more punches landing by both fighters until Geringer stops his opponent with a knee to the ribs forcing his opponent to call it quits. Dieckman was in a considerable amount of pain and could possibly have a cracked rib. Fight 5: Scott Futrel vs Charles Grissom - 185lb Winner: Scott Futrel, Round 2 - Doctor stoppage Summary: Round one was very even with both fighters getting dominant positions. In round two the doctor was forced to stop the fight early when Grissom got sick in the cage. Fight 6: Steve Barbee vs Chad Willyard - 135lb Winner: Steve Barbee, Round 2 - Unsportmanlike Conduct Summary: Round one was very even with Willyard narrowly escaping a tight guillotine. Round two saw Willyard holding onto a guillotine of his own for a long time before Barbee escaped. Shortly after Willyard is warned for language and then decides to leave the cage. Fight 7: Ronnell Mayes vs David Willyard - 155lb Winner: Ronnell Mayes, Round 1- TKO Summary: Mayes secured a headlock takedown early and then punched his opponent out forcing the referee to step in. Fight 8: CJ Johnson vs Greg Schneider - 135lb Winner: CJ Johnson, Round 2 - Guillotine Summary: Round one was fairly even with Johnson throwing heavy hooks and Schneider landing sick leg kicks. Round two saw Johnson dropping his opponent with a right hook and then pouncing on Schneider and cinching in the choke. Fight 9: Nikko Glasper vs Jesse Farmer - 185lb Winner: Jesse Farmer, Round 1 - TKO Summary: The crowd seem very excited about this fight. After escaping from full mount with a powerful sweep, Farmer mounts his opponent and punches out Glasper forcing the referee to intervene. Fight 10: Kris Hetlage vs Adrian Aldrich - 145lb Winner: Kris Hetlage, Round 1 - Submission due to Strikes Summary: After a quick scramble and both fighters working a guillotine, Hetlage grounds his opponent and forces him to tap. Fight 11: Mike Henrick vs George Holiday - 155lb Winner: George Holiday, Round 1 - Rear Naked Choke Summary: After a quick scramble Holiday trips his opponent, takes his back, and holds onto a RNC for the win. Fight 12: Patrick Sparks vs Anthony Springman -170lb Winner: Patrick Sparks, Unanimous Decision Summary: Sparks training out of Kyle Watson's gym used his dominant wrestling to hold his opponent down for all three rounds and stayed just active enough to prevent the reset. Fight 13: Chris Seip vs Steve Lindenmeier - 170lb Winner: Chris Seip, Round 1 - Rear Naked Choke Summary: Fighters fought in the clench before Seip took his opponent's back, then took the fight to the floor and locked in the RNC. Fight 14: Chris Eveland vs Demond Dorsey - 185lb Winner: Demond Dorsey, Round 2 - Gulliotine Choke Summary: Boxer Demond Dorsey dropped his opponent early with a nasty punch. Somehow, the fight continues as Dorsey keeps the fight standing for most of the round. The fight eventually went to the ground with a thunderous slam by Dorsey that shook the cage. In round two Eveland shot a single but gave up his neck and Dorsey, fighting in his home gym, capitalized. Fight 15: Jordan Collins vs Greg Caldwell - 145lb Winner: Jordan Collins, Round 2 - Injury Stoppage Summary: Caldwell avoided most of Collins attempts to get the fight to the floor in the first looking very comfortable on his feet. After a brief scramble on the ground, it appeared that Caldwell's shoulder popped out of the joint. An unfortunate shoulder injury forced a doctor's stoppage of what could have been a fight of the night candidate. Fight 16: Daniel Baynton vs Ira Lukowsky - 145lb Championship Winner and New Inner Circle 145lb Champion: Daniel Baynton, Round 2 - DQ Summary: Round one saw Lukowsky getting the best of his opponent in the stand-up, this former golden gloves boxer showed off his precision striking and kept his opponent guessing. An illegal headbut saw a quick doctor stoppage in round two as Baynton was visibly shaken. An unfortunate end to a championship bout. Lukowsky will need to regroup as he will be entering the Spire Bantamweight tournament as the #1 overall seed. Fight 17: Danny Wright vs Brian Kain - 185lb Championship Winner and New Inner Circle 185 Champion: Brian Kain, Round 3 - Arm Triangle Summary: 40 Year-old Brian Kain survived vicious ground and pound in round one that left his face completely mangled. Round two started muchlike round one ended until Kain reversed positions mid-round and closed out on top. Round three started standing until Kain got a takedown and ended the fight with an arm triangle. Fight 18 - Main Event: Tony Souder vs Jon Stotler - 205 Championship Winner: Tony Souder, Round 1 - Standing Guillotine Summary: After a quick exchange, Stotler shot in and exposed his neck, Souder finished quickly. After the match Bo Kunz challenged champion Tony Souder to a rematch at the next Inner Circle event. Should be a good one!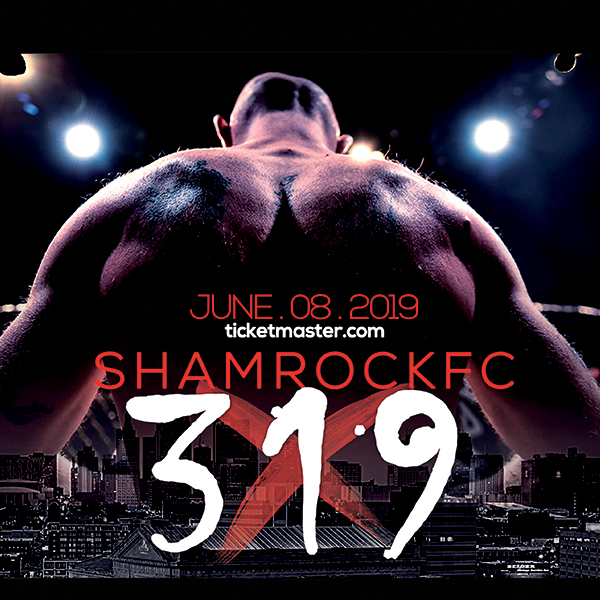 KCFA: Fight for the Troops
| Sat, July 27th
Truman Memorial Building, Independence, MO
Ultimate Blue Corner
| Fri, August 2nd
Harrah's Casino, Kansas City, MO
Shamrock FC: 321
| Sat, August 10th
Ameristar Casino, Kansas City, MO
Nemesis Fighting Alliance
| Sat, August 17th
Casa Loma Ballroom, St. Louis, MO

Tweets about "KnuckleJunkies OR @knucklejunkies"