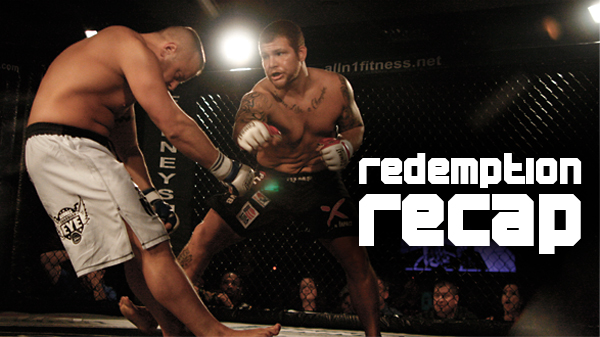 Heatherly head kick highlights Shamrock: Redemption
Chris Heatherly nearly blew the roof off the Stratford Inn with his right leg on Saturday night.

Fighting in the main event of Shamrock: Redemption, Heatherly landed a head kick that knocked out Kain Royer and drew a roar from the crowd just six seconds into their 185-pound bout.

Heatherly's kick was both precise and powerful.

"Right on the shin," Heatherly said. "I got a little slap in there but it landed and I saw his eyes go and I knew it was over."

The explosive kick not only earned Heatherly the victory but also helped him retain the Shamrock Middleweight Championship.

"I owe a lot credit to the gyms that I train at; Berger MMA and Southside Fight Club," Heatherly said. "My Muay Thai coach told me to come out and believe in your front kick and sure enough I threw it and that was all she wrote."

Against the powerful Royer, Heatherly's game plan going in was to stay on his feet.

"I wanted to keep it standing," he said. "You don't want to get into a clinch game with a brawler like Kain. I know I have good hands and that is where I left it."

Heatherly will have little time to catch his wind as he is slated to fight Tony Souders on Saturday at Nemesis Fighting Alliance.

"I'm bumping up a weight class to put the dog on a leash," Heatherly said.

Also on the main card, Ricky Bolin won the vacant lightweight championship strap when he forced Jake Martin to tap in the second round due to a rear naked choke.

The 23-year-old Bolin has been in MMA for four years.

"With tonight's victory, I think it's about time for me to go pro," Bolin said. "I'll see what my trainers say about that, but I'm really pushing it."
Bolin is 8-4 as an amateur.

"I fought for this title about a year ago and lost," Bolin said. "It's good to be back here and now I'm on top. In the past year, I had a streak where I was winning and losing and I just wasn't there mentally. Now I think I'm a whole other fighter. I'm ready to step my game up and I'm ready to bang."

Mike Suntinger, fighting for 21st Century MMA, defeated title holder Jordan Collins for the Bantamweight belt. Collins, a slick jiu jitsu practitioner based out of Mt. Vernon, Il., had a difficult time dealing with the wrestling of Suntinger, who won by decision.

"I tried to keep it up for a little bit because I knew he didn't have much standup," Suntinger said. "He takes shots from real far away so I figured I would be able to stop most of them, which is what I did."

Collins had a knee bar in the second round but the 19-year-old Suntinger was able to power through it.

"My strength was too much for him to pull off anything," Suntinger said. "I've been sick for over a month and I finally got my nose clear. Being sick this whole time got my endurance."

It was Suntinger's first win by decision.

"I knew I had him because I had him on his back almost the entire fight," Suntinger said. "I knew I got the win."

In a battle at 205-pounds, Bo Kunz won a unanimous decision over Marc Godeker.

"If it stood, I knew I would have knocked him out," Kunz said. "He's a one-trick pony, we all knew it. I just stuck with wrestling, listened to my corner, and just took my time and was patient because he was just waiting for me to get wild and crazy."

Kunz, known for his brawling ways, kept a level head and stuffed several takedown attempts from Godeker, a noted wrestler originally from Nebraska. Kunz stuffed two takedowns in the first round and before getting a takedown of his own and ended the round delivering shots while on top.

"Once he couldn't take me down, I could see frustration," Kunz said. "It just took everything out of him."

Godeker's best offense came late in the second round when he worked two submissions, including a kimura.

"I stayed relaxed and I didn't get crazy," Kunz said. "I kind of pushed back into it. He slid it down and it took the pressure off. I waited him out and got to my feet."

By round three, both fighters were spent and Kunz was able to hold Godeker off with his hands to earn the victory.

Kunz's ability to maintain composure is paramount as he turns his eyes toward a professional career.

"After 18 times in the cage I just realized that keeping my head in there is going to get me a lot further than trying to get in there and beat the shit out of them," Kunz said.

Kunz and Heatherly's wins was all part of a big night for Southside Fight Club. The gym went 4-0 on the night's card.

"Two weeks in a row that we went four for four," Southside's Mike Green said. "We'll right back at it. We have five or six guys next week on the Nemesis show. We'll all be ready and back at the gym on Monday."

Nick Pipitone led off the main card with a nice win over Joe Roye. Pipitone cinched in a triangle midway through the second round and held off two slams from Roye to win by submission.

On the undercard; Southside's Nate Dieckmann knocked out Derek Dressell with a devastating right hand in the first round to win. Ryan Dennis won by TKO over John Austin. In his cage debut, Mack Mankowich won a unaminous decision over Nick Slinkard. Dustin Fischer won via rear naked choke over Alex Weller. Jody Reicher choked out Nikki Smith in the second round and Kaleb Berger earned a first round knockout over Daniel Scaggs.