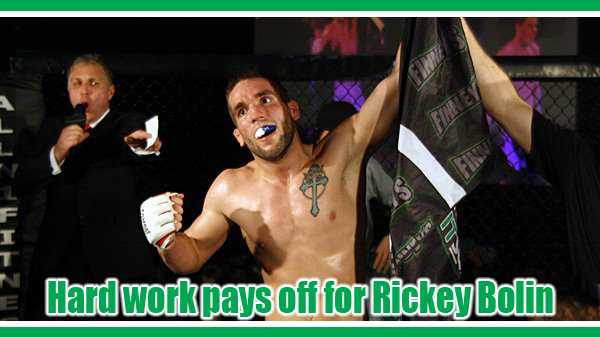 Hard work pays off for Rickey Bolin
Ricky Bolin is just a normal guy. He'll be the first to tell you that. He plays in a softball league, works full time.

But sometimes Bolin is not so normal. On the weekends, in front of a frothy crowd, inside a cage, he gets to beat up on people, something he just so happens to excels at.

"I work every day and train every day," Bolin said. "That's about all there is to know about me."

Bolin is a blue collar guy, a grinder, and his fighting style mirrors his life. When he gets his opponent in the cage he wears them down and imposes his will on them. The ability to do so stems from a brutal schedule that could wear anyone down.

"At night, I do my fighter training, do my jog," he said. "Then I go to work the next day and do it all over again."

That hard training has really begun to pay off, while he won't admit to it, Bolin has become Shamrock MMA's top amateur headlining three of the past four cards. Most recently he won Shamrock's 155-pound belt when he forced Jake Martin to tap with a rear naked choke.

As a kid, he got his first brush with combat sports when he started doing backyard boxing. Eventually he got serious about it and found himself at a MMA gym, and was immediately hooked.

"I got my ass kicked, and it was pretty awesome after that," Bolin said. "I loved it."

Bolin has been training under the Hit Squad banner for about two years now, after leaving Militech affiliate Absolute Martial Arts to get more well-rounded training.

On Saturday as part of Shamrock Promotion's Adrenaline fight card, Bolin will take on undefeated Taylor Nash in the main event. Nash is a tough wrestler who trains alongside the likes of Adam Osmoe, Scott Ettling, and the rest of Xplosive MMA.

On June 1st, Bolin's career will take another turn as he will finally make the leap to pro. He has hinted at it the during his post celebratory interviews in the last two events, but he and his coaches now feel the timing is right. His professional debut will be part of the June 1st event at Lumiere Casino. While he currently competes as a lightweight, he will be a featherweight once it's time to get paid to fight.

Bolin has the confidence and skills to make inroads into the sport. One of his former training partners, Justin Lawrence, has been making waves on the national level recently as a member of Team Cruz on this season's Ultimate Fighter.

"He's going to the UFC, and cleaning up," Bolin said. "That's given me a lot of confidence."

Confidence gained from the many hours slugging it out with Lawrence inside the cages of the Hit Squad.

"I've sparred with him a lot, and I was in there hanging," he added.

Bolin hopes to follow the path of his former sparring partner and someday let his fists pay the bills. But until he can make a living off fighting, he plans to keep working a full-time job and training full-time.

Grinding it out one day at a time.