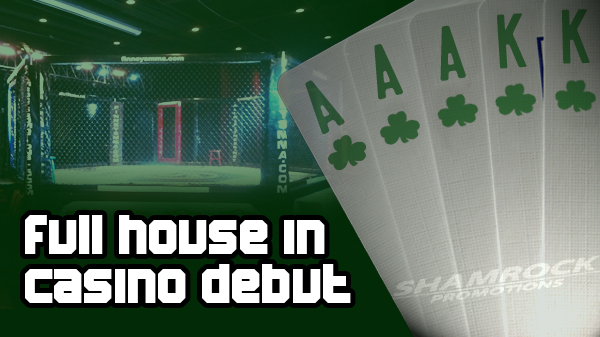 Full House in Casino debut
The inaugural card at Lumiere Hotel and Casino came up Aces.
Lumiere Hotel and Casino in downtown St. Louis played host to MMA Fight Night on Saturday with three amateur and four pro bouts.

Finney's MMA and Shamrock Productions were the major players on their inaugural bill of fights of a year-long contract at the casino. "Any time you start at a new venue it's almost like starting over," Jesse Finney said. "I thought it was a pretty smooth night overall."

The company will return to Lumiere on April 28.

Five of the seven fights were finished in the first round. Look for video interviews with all of the professional winners on Monday.

In the main event, Finney's MMA's Ben Brown went through four different changes in opponents before Brazilian Saudino Jeimeson took the fight on Wednesday at 135-pounds. The fight had plenty of fireworks before Jeimeson was awarded the victory due to an illegal knee at 4:43 in the second round.

Brown and Jeimeson went at it from the get go, with Brown connecting on a handful of punches. Brown pressed hard for a takedown but the now Kansas-based Jeimeson did an excellent job of stuffing the attempt. From the clinch, Jeimeson landed repeated knees that broke open a cut over Brown's eye.

Brown finally got the takedown he was after in the second round, but a nice escape by Jeimeson led to a scramble. Thats when Brown connected with a knee to the head of Saudino, leaving him face-first on the canvas. The ring doctor came in to assess Saudino, and after several minutes called the fight resulting in the disqualification of Brown.

"It was a shame that ended on a disqualification," Finney said. "I thought it was a bad call but we reviewed the tape ourselves and it was the right call. That's a bang-bang call for anybody and (the referee) made the right one."

Adam Cella looked strong in his first-round victory over David Colter at 170-pounds. The long and athletic Cella was letting his hands fly from the onset, even catching Colter in the neck with a right hand. Cella put an end to the fight with an overhand right and knee 44 seconds into the match.

Talented youngster Jimmy Donahue mixed up his punches and kicks well against Chris Evinger. Evinger weathered an early storm and eventually got the takedown. But Donahue came out of a scramble with an inverted triangle that led to the referee calling the fight in favor of Donahue in the first round.

In the night's first pro fight, Finney's MMA's Ryan Sutton took on Billy Garris of Marion, Il. Sutton used superior wrestling to warrant an early takedown but did little with it, riding out the first round while maintaining control and the dominant position throughout the first round.

It looked to be more of the same in the second round but Garris kept patient, executed a sweep and got on top of Sutton before raining down bombs, winning by TKO with 2:47 left in the second round.

In amateur action, Demagio Smith won in impressive fashion over Todd Barryfield. Smith won by knockout, while on the ground, at the 1:19 mark of the first round. Smith connected with a short, crisp, accurate shot on Barryfield's chin.

"It came from my boxing drills," Smith said. "I've learned how to stay tight and not allowing any space. It's Brock Lesnar all over again except at 155-pounds."

For Smith, who entered the cage draped in an Angry Birds cape, this was only his fourth MMA fight.

David Nika, all the way from Budapest via Finney's MMA, won by rear naked chocke in the first round over Skylar Kalaher.

Ben Chesser looked strong in the night's opening fight against Justin Wilken. Chesser sunk in an early triangle and Wilken tried to fight it off. In last-ditch effort, Wilken went for a big slam, but that only sunk the choke in deeper and he eventually tapped with at 1:26 in the first round.

"If you can take the slam, you can take the fight," Chesser said. "He knew he was going out. The lift was out of desperation."

Chesser is 5-3 as an amateur.