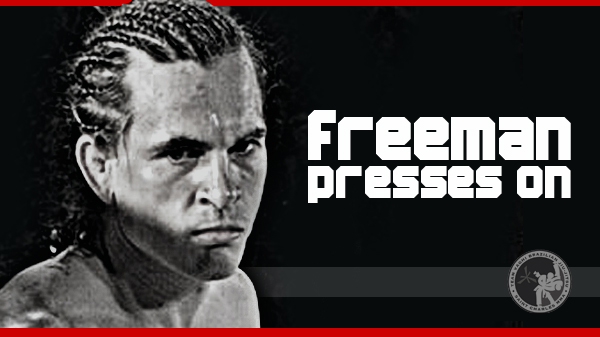 Freeman presses on
Editor's Note: This story was originally scheduled to run as a preview to the Titan Fighting Championships show that was scheduled in September but was cancelled. When KJ learned that Zach Freeman was going to fight on the upcoming Rumble Time card on Oct. 26, we were going to hold it until then. It has just come to light recently that Zach is taking a well-deserved break – the Rumble Time show would have been his seventh fight in 15 months and that included five months prepping and trying out for The Ultimate Fighter – and is no longer fighting on the Rumble Time bill so we have decided to run portions of the interview instead of canning it all together.

Before the calendar flipped from 2011 to 2012, Zach Freeman was lurking in the shadows of some of his more prominent St. Charles MMA teammates. But as the year progressed, Freeman slowly, yet violently, made his way toward the forefront.

The 28-year-old Freeman has earned four quality wins since November of 2011.
Freeman, nicknamed the Altar Boy, had a furious start to his career, finishing his first five opponents all in the first round, including dramatic choke-outs of Bryant Whitaker and Charon Spain. Freeman solidified his position as a top-flight contender at Rumble Time's main event in July when he went toe-to-toe with a tough Aaron Derrow and won a convincing three-round decision.

Knuckle Junkies caught up with the undefeated Freeman, who is 6-0, after a recent training session to talk about 2012, life outside of the cage, and the St. Louis MMA scene.

KJ: From where we sit, 2012 has been quite the year for the Altar Boy.
FREEMAN: "Until I'm fighting in the UFC for a belt, (those wins) are just accomplishments. I don't want to sound unthankful or unaware of the opportunities I've been given and where it's taken me so far. I don't want to seem ungrateful but I'm looking to go national. My goal is not to get into the UFC. My goal is to win some fights in the UFC. I'm not feeling huge accomplishments. I, personally, don't see it. Inside my own heart I have way higher expectations for myself.

KJ: Looking back on the Aaron Derrow fight, was that your career highlight so far?
FREEMAN: I look back on it more like I feel like I quieted some critics. I won all three (rounds), I toughed it out, I showed that I am a fighter, a warrior. I actually did some of the most damage to him in the third round. I know now that even when I'm tired I can still hurt someone. I grew as a fighter and I needed that.

KJ: Why are you undefeated?
FREEMAN: "I've kind of wondered that myself. I think I just have a killer instinct, I guess. I don't want to sound cocky or anything. It's one of those things that once I get my hands on you, you kind of feel it. I just possess, even since when I was a little kid, I've always had that strength and ferocity and it can come out of me. It's been a blessing but it can also be a curse at times."

KJ: Where you in a lot of scraps when you were a kid?
FREEMAN: "Yeah. Not necessarily that I started. I was always pretty boy-looking and I got picked on a lot in high school. I was a little guy. I was only 103-pounds when I started and 120 as a senior. I'm a late bloomer."

KJ: Do you still have a day job?
FREEMAN: "I've been building office furniture since I was about 17. It's an OK job. I've done pizza delivery, which wasn't that bad of a job. I was a bartender for over a year. It seems to work for a lot of fighters. It gives them the opportunity to train during the day. The money you can make can be good. I'm doing what I can to get by and hope to make it to the big show. But it is time to start thinking about after fighting. I want to build enough investment to open a business."

KJ: So I hear you play guitar?
FREEMAN: "I've been jamming a lot lately. I got my first guitar when I was 8-years-old, a Washburn Lyon electric. I learned on that and then I got a 12-string Yahama and then I went on from there. Now I've got a game called Rocksmith that is awesome. I'm learning "Hangar 18" from Megadeth right now. I actually write songs. I'm thinking of walking out to one of my own songs. I don't know how many fighters have walked out to their own music?"

KJ: Have you always been a metal guy?
FREEMAN: "I'm actually really into metal but I'm also really into jazz. There are a few country songs I like. Definitely my favorite band is Between the Buried and Me.

KJ: When did you start at St. Charles MMA?
FREEMAN: "We merged with SCMMA with winter of 2010-2011. I was originally with Dustin Severs at the Boxing Gym. Dustin started his own gym called Domain MMA and then we joined forces. I look back on it and it's like it's a good thing that happened. I would have hated to have fought EJ or Matt Ricehouse and all my buddies and teammates. I'm sure that stuff would have happened. And we never know in the future, it could. I just think there are so many other people to fight other than my teammates...unless there is a lot of money."

KJ: You always have a passionate opinion on the St. Louis MMA scene. What are your thoughts on the current state of the union?
FREEMAN: "St. Louis is cutting its own throat. I really think that. It's divided itself between gyms, pretty much. There's Finney vs. everybody else and it's not necessarily Jesse's fault. He's trying to run a business and do things. I think it's time that we all squash the beef and really try to support each other. If we're going to divide in St. Louis, I don't think we're going to get anywhere. I don't think the UFC is ever going to come here if stays like it is. We need to all work together to support each other. I wish everyone could be tight knit. We should all be looking out for each other so we can all go national. Who cares about being the best in St. Louis? Let's be the best in the world."