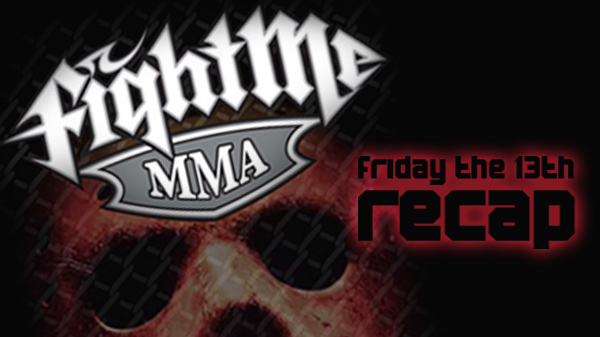 Fight Me Friday the 13th Event Recap
Fight Me MMA drew another scary-large crowd with its Friday the 13th night of professional mixed martial arts in St. Charles. The promotion, along with the help of plenty of free tickets and their title sponsor the Missouri National Guard-, had the Family Arena swollen to capacity. They continued smashing Missouri attendance records building on the success from their last event on Veteran's Day. Along with a guest appearance by horror film legend Kane Hodder, who played Jason Voorhees in the Friday the 13th movie series, the performances inside the cage were frightfully good.

Jake Collier and Kelvin Triller battled in a rematch in the main event. Collier, a top-flight prospect based out of Cuba, Mo., defeated Triller almost a year ago as amateurs. Collier secured a takedown early, and both fighters displayed an excellent ground game. Collier nearly pulled off a Kimura midway through the round, but Triller eventually lured Collier into a triangle, and Collier was forced to tap with just 18 seconds left in the first round.

In the night's first co-main event, Rashid "The Black Spartan" Abdullah faced Aussie Benny Alloway. Abdullah controlled the action on the ground for most of the first round, but Alloway remained patient and waited for his opportunity to finish. It came early in the second round when Alloway caught Abdullah in an arm bar and won by submission with 4:18 left. Tempers flared post-fight as Alloway accused Abdullah of biting and fighters and coaches had to be separated.

The first women's MMA bout in Fight Me history was one of the best and most talked about matches of the night. Californian Team Quest member Michelle Ould faced Regina Gallea from Montana. Ould started the fight with a sharp head kick and takedown of Gallea. Ould continued with ground and pound, but Gallea proved resilient. Gallea eventually worked for a leg triangle and had Ould in a little bit of trouble. After a suspect referee stand-up in which both fighters were working hard, This time it was Gallea who took Ould down, but using a quick sprawl, Ould managed to secure an arm bar for the victory at 2:19.

Lucas Gwaltney pulled off an impressive first-round victory over Dustin Center. To start the round, Gwaltney slipped while attempting a front kick, and Ace, an excellent grappler, jumped into his guard. Once back on their feet, Gwaltney delivered a vicious body kick, but Center shook it off and was able to secure a takedown and eventually work in a guillotine with little over a minute left. Gwaltney popped his head free and peppered shots into Ace's midsection to secure the first-round victory.

Florida-based fighter Mike King continued his dominance at 205 pounds. After getting dropped by an elbow from Louis DeWerdt early in the fight, King was able to recover, winning via vicious ground and pound. King's elbows on the ground are scarier than Jason Voohrees in a hockey mask.

Nick LoBosco won a hard-fought, fight-of-the-night candidate, with a split decision win over Corey Ace. Both fighters picked their spots waiting for heavy handed counters. A back and forth battle, highlighted by a flying knee from LoBosco, ended the first round. Fighters exchanged blows in the second. The round was highlighted by a flurry of punches after a takedown by Ace. The third and deciding round started with LoBosco stalking Ace with a renewed vigor. Repeated leg strikes slowed and stumbled Ace, earning LoBosco the victory.

CMMA Fighting System's Sal Woods looked impressive and back on track with this win over TJ Thomas. Woods started the first round with a nice takedown and worked from the dominant position. After a quick scramble, the fighters returned to their feet and Woods connected with a thunderous knee sending Thomas to the mat. "It must be what hitting a home run feels like," Woods said. With 2:13 left in the first round, Woods finished the fight with a barrage of punches.

In amateur action:

Ross Cooper was able to pick up a victory over Sgt. Jeremy Koerper of the Missouri National Guard. Cooper locked on a submission in the closing minutes of the third round after both fighters battled to a stalemate in the first two.

Mike Green stepped into the cage at a moment's notice, as a last-minute replacement for Josh Crouch. "I got the call at 11 a.m., today," Green said. He took on Army Combatants instructor Jason Powell, who got a hard fought TKO victory in the third. Powell finished the fight from the mount position and rained down punches with 1:20 left in the third round. "I was a little disappointed with the stoppage," Green said. "He wasn't dropping bombs or smashing my nose, but it was fair."

Green is a 10-year fight veteran with over 50 amateur bouts under his belt. "I've been helping some guys train for an upcoming show," Green said. "Luckily I was ready right away. I watched some tape on him. He wanted no part of my stand up."

In the night's first fight, Richie Fernow was able to pull off a split decision victory over AJ Siscoe. "I knew he has good ground game but I didn't realize how strong he was," Fernow said. Siscoe was more aggressive in the opening round and made a nice submission attempt from his back to close out round one. Siscoe gained control in the second round with a takedown and maintained dominant position. In the third round, Fernow protected himself from takedowns by peppering shots to Siscoe. "I was able to pick him apart," Fernow said. "He couldn't tag me." The 28-year-old Fernow trains out of Berger MMA in Valley Park. He is 4-1 as an amateur.