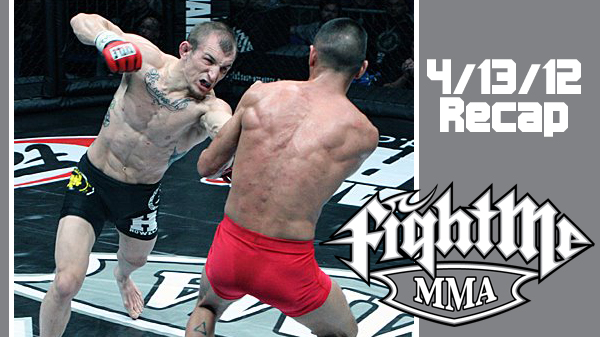 Fight Me 4/13/12 - Recap
Fight Me MMA returned to the Family Arena Friday night and from the top to the bottom of the card, put on its best showing yet. The event kick-started the organization's national tour in fine fashion with some devastating knockouts, three-round grinders, and two impressive pro debuts.

In the night's main event, Zach "The Altar Boy" Freeman out of St. Charles MMA/Team Vaghi won his lightweight bout in devastating fashion over Bryant Whitaker. After a quick exchange, Freeman defended a takedown attempt and sank a vicious guillotine choke. Whitaker went to sleep almost immediately as Freeman won by TKO in just 26 seconds.

For exclusive interviews with many of the night's winners, including Freeman, check back on Monday.

In the night's co-main event, Tonya Evinger faced Lacie Jackson in a 135-pound showdown. Evinger went right to work, dropping Jackson with her first punch. Evinger showed her veteran's moxie by being patient. Jackson tried to battle back, attempting a takedown and at one point tripping Evinger with a leg kick. But Evinger's striking proficiency proved to be too much as she won by TKO in the first round.

Josh Sampo, a teammate of Freeman's, took on Czar Sklavos in matchup of two top-flight 125-pounders. (pictured)

Both kept the fight standing with solid strikes from the opening bell. Sampo ended round one in control on the ground. Sampo stalked Sklavos in the second round and fired off solid combinations. As Sklavos started to tire, Sampo continued putting on the heat. In the third round, Sampo took the fight to the ground and controlled the entire round and put the finishing touches on a great technical fight by wining by unanimous decision, 30-27.

Ray "The Gator" Grindstaff continued his winning ways in the Fight Me organization. Grindstaff lived up to his surname by grinding away on the ground against John Devall in a bantamweight match. Grindstaff was relentless when it came to going for an armbar. He finally got it to take in the second round and won by submission.

Jessica Halverson powered her way to a victory over Nikita Netjes. Netjes tried to take the fight to the ground but Halverson made her pay, firing off several strikes before winning by TKO in the first.

David Sharp, out of 21st. Century MMA, made quick work in his pro debut against Jonathan Chandler in a heavyweight bout. Sharp landed two devastating knees that led to a TKO win near the 30 second mark.

Destruction MMA's Alex White also made his pro debut and looked strong in doing so against Strikeforce veteran, Greg Wilson. White opened a cut on Wilson in the first round. A round that saw Wilson spending a lot of time on top, White was able to nullify the advantage and escape without absorbing much damage.

In the second, a reversal by White led to him taking Wilson's back. White patiently secured a rear naked choke and finished the fight midway through the round.

"Early on in the fight, I wish I would have reacted better," White said. "But I feel pretty good. All of my experience as an amateur helped me so much."

Israel Lopez was impressive in his win over Daniel Baynton in a featherweight showdown. Lopez slammed Baynton early on, took the mount and eventually worked a triangle. When that didn't take, Lopez switched to a high arm bar before eventually settling in on a devastating kimura to win in the first round.

"The kimura was deep," Lopez said. "I think I popped his shoulder. I tried to stay and stand with him for a little bit. But once it got on the ground, I did what I was trained to do."

Juan Parra gutted out an unanimous decision over Tommy Chronister in an amateur lightweight bout.

The night got off to a blistering start when Fierce Taylor and Damian Newman went at it for three hard rounds in an amateur bantamweight bout. In the first round, Taylor was able to posture up and punish Newman but once the fight got back on its feet, Newman connected with a power shot that sent Taylor to the mat. Newman looked to be closing the deal in the fight, but a knee to the head resulted in a one-point penalty.

The two fighters battled back and forth for the next two rounds, as good technique by Newman allowed him to escape from bad positions. Newman worked his submissions, particularly the arm bar, but Taylor continued to slip or slam his way out of trouble. After three rounds of great action, the bout ended in a draw.

"A draw definitely sucks," Newman said. "I knew he was heavy on top so I trained to attack and isolate the arm. I threw that knee a little quick in the first round and I knew I had to win the next two, but I guess it wasn't big enough."

For Taylor, considered one of the best amateurs in the St. Louis area, the draw left a bad taste in his mouth.

"It's worse than losing," he said. "I don't like it. I hope I get to fight again soon. (Newman) was tougher than I thought. It was weird because I wasn't able to control him with my wrestling. He kept better position and took wrestling) away."

The Fight Me MMA tour continues next month with a May 4th show in Bloomington, IL.