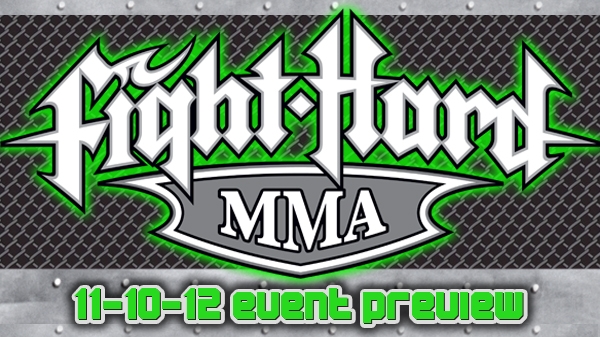 Fight Hard 11-10-12 - Event Preview
On Saturday, one of the region's top fight promotions returns with its legion of fans.

Fight Hard MMA has loaded up the St. Charles Family Arena at almost every show and Saturday's event looks to be more of the same.

In what seems to be commonplace now for area promotions, the card has proven a challenge to the matchmakers, as several fights and fighters were scrapped throughout the formation, including original main event participant Nick LoBosco, who withdrew from a planned fight with former WEC bantamweight champion Chase Beebe.

Should all fighters make weight and show-up to the venue, there will be nine fights on the night including three women's matches.

Gwaltney vs Washington

One fight with future title implications is a match between Lucas "2 Strong" Gwaltney and Rob "The Beast" Washington. The two lightweights will battle on Saturday with the winner advancing to January's main event to take on "The Altar Boy" Zach Freeman for a chance at becoming Fight Hard's Lightweight Champion.

Gwaltney has made a name for himself in the Fight Hard promotion as someone who leaves it all in the cage. Whether it was his edge-of-the-seat performance against Abel Trujillo where an outmatched Gwaltney battled for three bloody rounds or the quick stoppage of Dustin Center, Gwaltney usually creates exciting fights whenever he steps into the cage.

East St. Louis' Washington (14-6) started his career winning nine-of-10, gaining national attention from the Edmonton, Alberta-based Maximum Fighting Championship. This will be his third fight for the Fight Hard promotion, successful in his previous two fights. Washington is a strong wrestler with heavy hands as evident by his eight TKOs.

Main Event Siblings

When Tonya Evinger steps into the cage on Saturday night's main event, she will do so a night after her brother Owen competes in the Bellator main event. This will mark the first time the two have competed so closely together and the fact that they're both featured in the main event makes it even more unique.

Tonya will be taking on Strikeforce vet, Carina Damm (17-7) in a match that could help the winner move up into the national rankings. Damm has faced many of the sport's top women fighters, like Tara Larosa, Cat Zigano, and the rising star Munah Holland, and is looking to make Evinger another notch in her belt.

"I have a lot of respect for her as a fighter," Evinger said. "But when it comes down to it, I'm putting my fist through her face. I want to get on those rankings and be number one next year. I'm willing to fighting anyone."

Evinger (10-6) doesn't have to look far for motivation in the fight.

"She's taking this fight four days before another fight in Brazil," said Evinger. "I feel disrespected by that."

A motivated Evinger can be dangerous as witnessed by the quick stoppage victory over Lacie Jackson at the April 13th Fight Hard from earlier this year. This will be Evinger's first fight at 125.

Former WEC Champ to fight local prospect

Announced after the main event at last Saturday's Cage Champs 40, Javon Wright will be taking on Chase Beebe.

Wright was victorious this past weekend against Jesse Thorton, in a fight that saw Wright take little damage and get a quick stoppage. The fighter - affectionately known as "Wolfman" - will is taking the fight on one week's notice and faces a stiff test in the form of Beebe, a powerful wrestler.

Evinger, who is helping out with the matchmaking, is impressed with Wright's tenacity and willingness to take on a tough challenger.

"This is a big opportunity and he was the only one who stepped up," Evinger said. "This kid is down to fight, has a lot of fights (as an amateur) and experience means a lot."

The Women of Fight Hard

Three of the slated bouts on the card feature talented local women fighters. Leading off the will be Molly Welsh and Britt Wilson.

Fight Hard fans may be quite familiar with another female on the card, Jessica Halverson. Halverson made quick work of Nikita Netjes earlier in the year, and brings an arsenal of heavy hands, and vicious ground and pound to the table.

Drawing the tough assignment of facing Halverson is Tamikka Brents. Brents had a very successful amateur career amassing 11 wins with a single loss, and will be making her professional debut on Saturday.
Halverson's only career loss comes via submission. The two will fight at a catchweight of 150.

Top amateur bantamweights to battle

When you compile a list of the area's top amateurs, Fierce Taylor is generally near the top of it. The young bantamweight, who now makes his home at MCS, is at the top of his game and is poised to make a splash once he turns pro. In his 19 fights, he's only tasted defeated twice, one of which is at the hand of Saturday's opponent, Ira Lukowsky.

The pair tangled two years ago at Cage Championships, with Lukowsky getting a late stoppage win. Taylor has never forgotten the defeat, and is hungry to avenge the loss.
Lukowsky's strengths are his technical striking and athleticism, two elements that have proven problematic for Taylor. Lukowsky's only weakness, if he has one, is his ground game. Something that Taylor excels at.

The winner of this match will face the undefeated Charles Johnson for a chance to become the Spire Bantamweight State Champion and winner of Spire's first ever amateur tournament.


Representing Fight Hard's nearby gym, The Academy of Courage, will be Evinger, Halverson, Michael LoBosco, and Jeremiah Curtright.

Weigh-ins will be Friday afternoon at 2PM at the Tilted Kilt in St. Charles. A Bellator watch party will be assembling later in the evening to cheer on Owen Evinger.