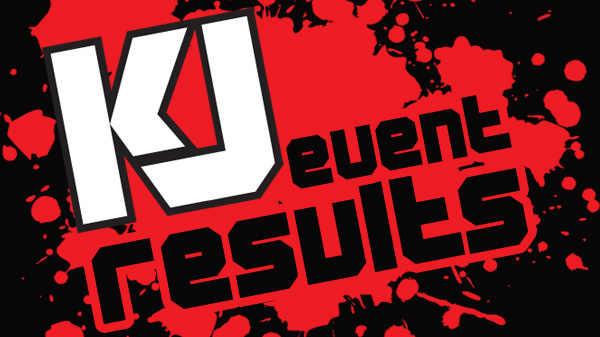 Faction MMA: Rising - 11/19/11 results
Nathan Dieckman with an 8 second KO in a amateur K1 bout to start the night.

Clifton Stock gets the better of his younger brother in an exhibition grappling match. Guillotine choke victory early in the first.

Andrew Sanchez and Justin Ratcliff traded leather for an exciting first round in this K1 match-up. The second round was equally exciting with Sanchez getting in more quality shots that his opponent. Sanchez wins by KO in the third with a kick that staggered his opponent early and punches to finish seconds llater.

After a flurry of blows that ejected his opponents mouthpiece, and an unsportsmanlike outburst, Mike Graham wins by DQ 38 second in the first.

Josh McGrotty wins with rear naked choke after a early takedown and scramble on the ground. McGrotty wins 1:38 in the first.

Batamweight championship match. Donte Butler on top for most of the round. Wil Alfaro able to get cinch in an armbar victory to win the belt in the first.

A thrilling match for the Faction Lightweight championship between CJ Hunter and Kirk Huff. Round one saw several submission attempts by Huff and creative escapes by Hunter. After a quick exchange on the feet the gift returns to the ground in the second. Suffocating pressure by Huff in the third. Hunter got a slight advantage in the fourth narrowly surviving a triangle to end the round. Huff's grappling is able to ground Hunter's athleticism for most of the final round. Kirk Huff is the new Faction Lightweight Champ with a unanimous decision win in the most exciting fight so far.

Main event bout for the Faction and Spire Welterweight belt. Jeff Escobar vs Hugh Pulley. A wicked throw by Pulley takes the fight to the mat. Fighters return to the feet, but not for long as a vicious slam by Pulley puts Escobar on his back. Pulley was on top for the majority of round two. Round three was too close to call with a long stalemate on the ground. Round four saw Pulley defending the rear naked choke for almost the entire 5 minutes. Hugh Pulley is your main event winner with a very close decision win. Pulleys wrestling was enough to hold off a very game Jeff Escobar.