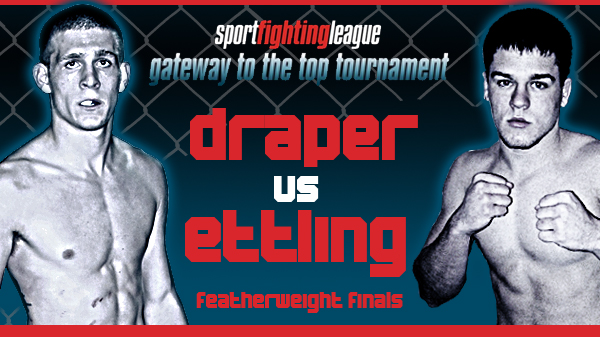 Ettling, Draper to duke it out in featherweight finals
Scott Ettling and Travis Draper are a win away from a pro contract with the Sport Fighting League. The only things standing in their way is each other.

The two will square off for that pro contract on Friday as Rumble Time Promotions and SFL present March Mayhem. Ettling and Draper will meet in the featherweight finals of the Gateway to the Top tournament. In the other tournament finals, welterweights Hugh Pulley and Kyle Walker will meet.

As a young kid who got into a lot of fights, Ettling was looking something constructive to do with his free time. After learning about mixed martial arts, he decided that is something he'd love to try.

"Fighting is something I love to do, and this has kept me out of trouble," he said.

If he wins on Friday, fighting will also start paying the bills.

Ettling started fighting when he was 17, and it didn't take him long to surpass the skills of his first trainer, Dale Stolte. Ettling fought Stolte for the Captial City Cage War title back in July and KO'd his former teacher in the 2nd round.

He now trains under Explosive MMA head coach Adam Wright, a 3rd degree black belt in Tae Kwon Do, a black belt in Karate, and a purple belt in Jiu-Jitsu. Explosive MMA is located in the small farming town of Hilsboro, Illinois. If that name sounds familiar, that's because UFC Hall of Famer Matt Hughes and his twin borther Mark are both from there. While Matt is semi-retired, he and his brother still find time to train, visiting Explosive 2-3 times a week.

"Those guys are good guys" Scott speaking on the Hughes brothers. "You learn something new every time when training with them."

When asked if they take it easy on the young nineteen-year old? He laughed and said "oh no, they don't ease up."

Ettling's last fight was in February when he took on James Mottershead. A fighter that is difficult to defeat, but even more difficult to stop. The two battled for 12 minutes before the fight went to the scorecards. In the end Ettling won the fight according to two of the three judges at ringside.

"Mottershead is tough, that shouldn't have been a split decision, but I'm happy to have the win," Ettling said

When asked about Draper, Ettling is confident.

"Seen him fight. Wasn't really impressed," he said. "He loads his right, he's real quick on the ground, but he loves to throw the right, and that's pretty easy to counter."

Ettling believes the fight might not make it out of the first round, certain he will win by either strikes or a submission if it goes to the ground.

The 20-year-old Draper is still relatively new to the sport, with just 18 months under his belt.

"I enjoy beating up on people," Draper said. "It kind of came natural."
Just a few years away from walking the halls at Francis Howell Central, where he played football, wrestled, and got it going on the rugby pitch.
"I had a wrestling coach who asked me if I wanted to come out and fight people and I came out and started beating up on people.

After his last gym broke apart, Wentzville Boxing Gym, Draper was approached by Mike Rogers to start training at St. Charles MMA.

"He thought I was pretty good and I thought, why not fight with the best," Draper said. "It's a blast. It's definitely a whole another level of gym than what I'm used to. Nobody's a dick and we all joke with each other and there's some amazing athletes."

Draper has confidence in his striking skills.

"I'd really prefer to keep it standing with anybody," he said. "If something happens, I always have the wrestling base to take them down. But I would rather stand up and knock someone out."

He is also a fan of competing in a tournament format.

"I think it's awesome," Draper said. "It's the best way to go. Basically you know who the best is. It reminds me of high school wrestling. It's pretty sweet."

Draper enters Friday with a 7-1 record as an amateur.

"On Friday, I'm just looking to win," he said. " I want to go out there and put on a show. Hopefully knock his head off. He's athletic, likes to come out there and fight. I like to do the same. "I like to push the fight. I go out there to put on a show, knock somebody's head off. Who doesn't like to punch someone in the face?"