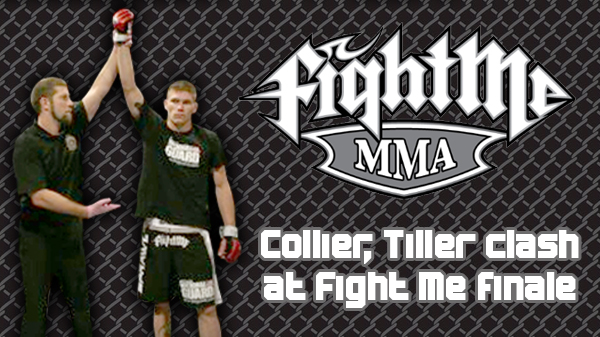 Collier, Tiller clash at Fight Me finale
Raised in rural Missouri, Jake Collier wasn't big on sports. There just wasn't time for such fodder.

"Growing up in the sticks, all I did was was work," Collier said. "Cut wood and work on cars."

But now the full-time welder finds himself with bushels of potential and starring in a sport he jumped into just three years ago.

Collier, 23, will headline tomorrow's Fight Me MMA Friday the 13th at the Family Arena when he takes on Jake Tiller in a middleweight (185-pound) bout. Both are unbeaten as pros.

While almost-guaranteed to be explosive, Collier and Tiller are far from enemies. The two have known each other for years and met up as amateurs when Collier won by armbar in the first round.

"(Tiller) is a good dude," Collier said.

Both are worlds away better from that night.

Tiller is fast and athletic and possees explosive leg kicks.

He made a splash into professional MMA by Jeb Chiles, who was 13-1 at the time.

Collier self-trained himself to a 7-2 amateur record before teaming up with Patrick Smith, at the Smith's Pit MMA in Cuba. Collier started out as a light heavyweight (215) but has made his way down for his pro career.

"Before it was an easy cut," Collier said. "But it's hard not to put on mass when you're training ever day."

Collier has had three fights as a pro, two of which he finished in the first round. He submitted Darryl Cobb in the the third.

Smith has cornerd and trained Collier for his final six amateur fights and all three pro bouts. A bulk of the training takes place at the Smith Pit, a 15'x20' room that holds true to a pretty basic principal; if it doesn't pertain to MMA, then it's not worth doing.

You name it, if it can be used inside the cage, that room is willing to try it out.

"We're pirates," Smith said. "We pillage and burn from any sport. But we don't do anything if it doesn't pertain to MMA. That is what works for us."

Smith calls Collier the prototype of this system.

But as of late, Collier has burned up some miles to get a fresh take. He has made training stops in and around the St. Louis area to not only mix up the boredom of sparring but to also get a reality check.

"I don't want smoke blown up my ass," Collier said. "I'm still doing a million things wrong. And when any of these guys are telling me something, I'm not going to waste their time."