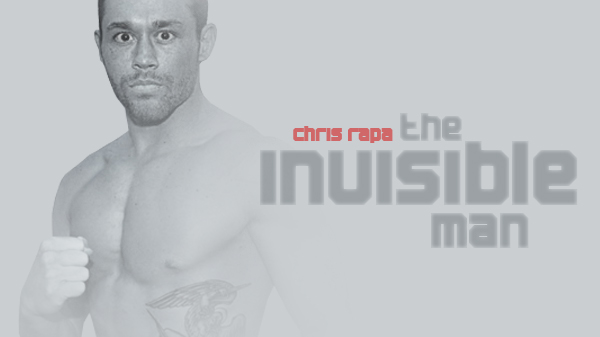 Chris Rapa: The Invisible Man
Chris Rapa will fight March 16 at the March Mayhem event at the Ameristar Casino in a show put on by Rumble Time promotions.

It might be strange to some, in this age of social media and self promotion, that a fighter would consciously avoid putting information about himself out for everyone to see. But Chris Rapa does just that.

He plays his hand close to the chest not wanting to give away any advantage to his opponents. Rapa won't be able to stay in the shadows much longer if he continues to build on his undefeated 4-0 professional record.

Rapa's interest in boxing began with his grandfather Frank Rapa. The pictures and stories of Frank Rapa own boxing career spurred curiosity in the younger Rapa. Chris Rapa began his amateur career at 16 fighting in more than a 100 amateur bouts. These fights forged him into a skilled amateur with a lot of heart. Rapa trains with the Hit Squad out of Granite City, Illinois. A big body puncher Rapa has ended 3 out of his first 4 professional fights in the first round.

The momentum generated from his early success has inspired Rapa into looking for greater challenges. By stepping up competition and taking on 6 round bouts he wants to emerge from anonymity and build a fan base here in Saint Louis. However, Rapa is not looking past his opponent nor the opportunity presented in his upcoming bout.

Friday March 16 Rapa will take on another undefeated fighter, John Brewer. Rapa said his opponent is tough and the fight should make it out of the initial round. Rapa is looking for a second round KO but conservatively expects it to be a hard fought battle that goes to decision.

Rapa expressed his excitement at the chance to fight at the Ameristar. As he said, "Great venue, and the mix of MMA and boxing should be a very exciting event." The event that takes place next Friday will feature 4 Pro MMA, 4 Pro Boxing, and 3 Amateur MMA bouts.

If Rapa continues his winning ways at March Mayhem he will be hard pressed to remain hidden, but he is prepared to rise to the challenge.