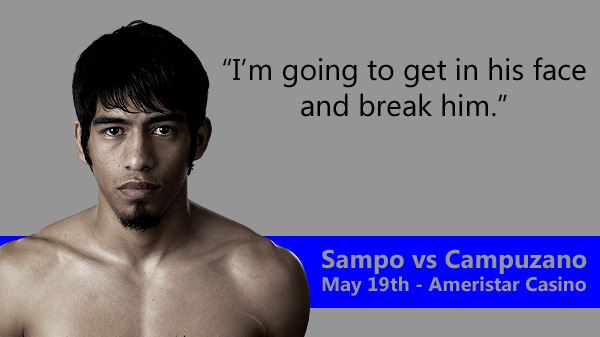 Campuzano: "I'm going to get into his face and break him."
It has been over a year since Will Campuzano has stepped into the cage.

On Saturday, Campuzano, a former UFC and WEC veteran, will break his 13 month fight drought when he steps in against Josh Sampo to headline the Rumble Time Promotions event at the Ameristar Casino.

The 25-year-old Campuzano pulled no punches when asked about his opponent.

"He's a wrestler, so he's going to try and take me down and get on top of me," Campuzano said. "I'm not gay, so I stay away from that.

"I'm going to punk him. I'm going to get into his face and break him. That's the game plan. This is his first tough fight. He's had nothing but bums. I guess they think he's ready for the next step but I'm going to send him back down."

Campuzano spent six months on the shelf nursing an injury and since recovering, has had a difficult 2012 trying to find an opponent. Following the Sampo fight, Campuzano looks to have title fight in the works against Steve Garcia for the Legacy 125-pound title.

"Things are finally cooking back up," Campuzano said. "Getting a good win over a good wrestler (Sampo) like that will have me ready."

Campuzano is 9-4 after submitting Randy Hinds with a rear-naked choke in April, 2011. He fought twice with the UFC, which ended with a pair of loses to Nick Pace and Chris Cariaso. He has finished seven of his nine career victories by either knockout or submission.

Sampo's last fight came in April when he won a decision over Czar Sklavos at a Fight Me event. He has a three-fight win streak heading into Saturday.

"Training just carried over and I got right back to business," Sampo said. "I feel good, healthy and strong. There are a lot of things that we keyed and that coaches noticed in film. They noticed some things that he keys on and we're going to exploit that."

Campuzano says there is a target on his back and that up-and-comers like Sampo salivate over the opportunity to get a 'W' against him.

For Sampo (6-1), that assessment is spot on.

"It gets me more and more amped to fight these bigger name guys," Sampo said. "It gives me more sense of motivation. It's not just some guy at a local gym. It's somebody who is known across the country as a top-ranked guy."

However the fight shakes out, the St. Charles MMA fighter knows he will enter the cage prepared.

"There are very few things that I can guarantee," Sampo said. "But I can guarantee that I'm going to be in great shape, I can guarantee that I'm going to bring everything I've got. I'll let the cookie crumble the way it does or the chips fall the way they do."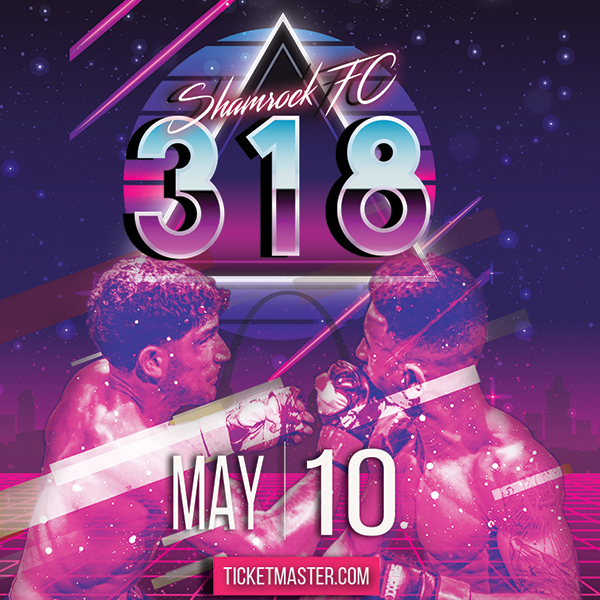 Nemesis Fighting Alliance
| Sat, October 5th
Casa Loma Ballroom, St. Louis, MO
Shamrock FC: 323
| Sat, October 12th
Ameristar Casino, Kansas City, MO
Shamrock FC: 324
| Fri, November 1st
River City Casino, St. Louis, MO

Tweets about "KnuckleJunkies OR @knucklejunkies"