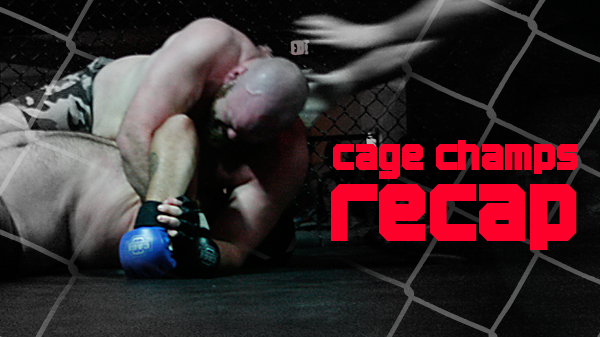 Cage Champions: 34 - Recap
On Saturday, Cage Champion Promotions hosted a "challengers card" featuring amateur fighters from The Pit, St. Charles MMA, Mid American Martial Arts and other schools from around the area. A large, boisterous crowed packed the Elk's Lodge in downtown Washington and were treated to some excellent fights. Nine amateur MMA, grappling, and K1 matches rounded out the card which was highlighted by the Spire 155lb NE Regional championship. Here are the results:

Fight 1: Argus Pitts vs Sergio Navaro - Exhibition Grappling
Summary: This was an exhibition grappling to build experience for two fighters new to the sport. Most of the match was spent in Argus Pitts' guard as he attempted a guillotine from the bottom three separate times. After the time limited expired the judges determined the match is a draw.

Fight 2: Matt McFarland vs Mike Sutton - 135lb MMA
Winner: Matt McFarland, Round 2 - TKO
Summary: Sutton worked a side headlock before McFarland was able to take his back. The fighters scrambled and Sutton popped out to side control before getting a front face lock. After a brief scramble Sutton was able to regain his side headlock. Eventually McFarland is able to escape and started working out of Sutton's guard. End of Round 1.

The fighters engaged on the feet before the ref stopped action after an illegal knee by McFarland. After action resumed McFarland stuffed a takedown and landed in full mount and before he began raining down punches, Sutton had no answer and the referee was forced to stop the fight.

Fight 3: Dylan Roberts vs Brandon Abuchon - 155lb MMA
Winner: Brandon Aubuchon, DQ (Forfeit)
Summary: Brandon Abuchon won after his opponent decided to forfeit his match in the ring before the bell.

Fight 4: Dusty Smith vs Rod Myles - 185lb MMA
Winner: Rod Myles, Round 1 - Submission
Summary: Myles landed a few quality strikes standing before Smith was able to take the fight to the ground. Myles from side control, worked for a kimura, and with just a minute left in the round, referee Dustin Severs called for the bell.

Fight 5: Josh McGrotty vs James Keith - K1
Winner: James Keith - Unanimous Decision
Summary: Keith landed some powerful kicks before getting dropped by a punch. Referee Severs declared the incident a slip. Keith landed a series of punch and kick combos. Each kick landed with a loud thud that drews wows from the crowd. Both fighters were landing quality combinations before the round ended.

In round two, Keith continued landing big kicks to the thigh while McGrotty worked his straight right to the head. McGrotty worked head body combos while Keith continued to throw thigh kicks. Keith seemed unwilling to get in close to McGrotty and opted to instead try and land from outside.

Round three started with Keith working a high/low combination. Keith continued chopping away at McGrotty's leg. McGrotty answered with a big overhand right. Action paused momentarily due to a low knee by Keith. After action resumed Keith cornered McGrotty with a few combinations. The round ends with an attempted superman punch by McGrotty followed by a flurry of head punches. Fight goes to the judges.

Fight 6: Virgil Vongladeth vs Brandon Howard - 135lb MMA
Winner: Brandon Howard, Round 1 - TKO
Summary: Howard walked to the cage greeted by the loudest applause of the night. After a brief exchange Howard forced the action against the cage working a clench. A big slam sends Vogladeth to his back with Howard landing in a full mount. Vogladeth turned giving up his back but is unable to escape due to Howard's body triangle. With Howard landing punches from on top, referee Dustin Severs has no choice but to stop the fight to a thunderous applause.

Fight 7: Sean Bevin vs Jason Figginmeyer - 155lb MMA
Winner: Jason Figginmeyer, Round 1 - Rear Naked Choke
Summary: Figginmeyer was also very popular with the crowd. Figginmeyer starts the round with a single leg takedown transitioning into side mount. Bevin defended from bottom, but eventually Figginmeyer passed his guard, and begins landing punches from full mount. Bevin gave up his back to prevent any further damage allowing Figginmeyere to work a rear naked choke forcing the tap.

Fight 8: Jason Hunt vs Nick Pohlmann - Heavyweight MMA
Winner: Nick Pohlmann, Round 1 - Submission
Summary: The fighters engage and Pohlmann gets a big slam landing in north-south position before moving to side control. Pohlmann attempted an arm triangle before deciding to try a kimura. Pohlmann cranked the arm which forced Hunt to tap just 1 minute in.

Fight 9: Christian Camp vs Jeff Escobar - Spire 155lb NE Regional Title
Winner: Jeff Escobar, Unanimous Decision - New Spire 155lb NE Regional Champion
Summary: The fight began with both fighters punching out of a half clench. Each of the fighters landed good shots with Camp connecting with a knee to the chin of Escobar. The bigger, stronger Escobar pushed the fight to the cage as he continued punching out of the clench. Escobar hit Camp with a low knee, but despite his verbal protest, the match continues and Camp absorbs several stiff shots. Camp is forced to fight on and starts landing quality punches of his own before the fight goes to the ground with Camp landing on top. Escobar muscled out of the bad position and the fight returned to the standing positiong shortly before the round ends.

Round two saw Escobar once again forcing his opponent into the cage. Camp gets the fight to the ground and attempted a series of submissions before Escobar was able to escape. Camp takes the back of his opponent and worked to get hooks in but is unsuccessful in finishing. Camp from the top, lands a few good shots to close out the round.

The third round began with Camp absorbing a hard knee to the body as he attempted a single-leg takedown. With the fight now on the ground, Escobar was able to slide out while holding onto an arm. This looked to be the end of the fight, but miraculously Camp escaped and eventually gets the back of Escobar. Camp attempted a rear naked choke before getting flipped, resulting in Escobar in the dominant position, landing several punches.

In the fourth round, Escobar continued his physical dominance forcing Camp into the cage. An attempted takedown landed Escobar in Camps guard with his neck in a guillotine. Both fighters were pretty slippery at this point and Escobar is able to escape. From the bottom, Camp caught one of Escobar's punches and locked on the arm bar. Escobar sensing danger, managed to escape before regaining a dominant position as the round ends.

The final round saw Escobar working from the back of Camp. Control swung back to Camp as he's able to slide out of a submission and land in side control With Escobar working a kimura from the bottom, Camp finds an exit and captures the full mount. Defending against heavy punches from above, Escobar used the cage to power out and improve his positioning. Camp managed to take the back of Escobar and rained down punches before the bell rings and the fight went to the scorecards.

Both fighters showed an amazing amount of heart and this decision could have gone either way.

Great night of fights in Washinton, MO!