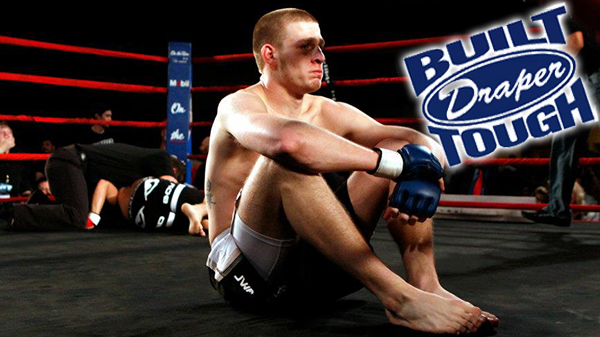 Built Draper Tough
Rugby, football, and wrestling. If you want to toughen up your kid, that's a good place to start.

This cauldron of full contact sports served as the building blocks for Travis Draper, one of the area's bright young prospects.

After a four year on-again off-again love affair with the sport, the 22-year-old Draper will make his professional MMA debut on Friday for Rumble Time Promotions in St. Charles.

A rough kid who genuinely loves to scrap, Draper is taking the familiar footsteps of other St. Charles MMA teammates and is entering the pro ranks with a strong pedigree of amateur accomplishments.

"My first cage fight was in Hannibal." Draper said. "I had just turned 18, first time you get to fight, and I fought some guy, he was 28 at the time. I trained at a boxing gym at that time. I was supposed to take that guy down, but knocked him out."

It wasn't long before Draper's path would cross with his future coach and mentor Mike Rogers.

"After my third or fourth fight," Draper said. "Mike had a couple guys on the same show. I had fought that night. Mike knew my gym was dispersing and told us all we had a place to go if we wanted to go there."

Draper has been at the St. Charles-based SCMMA ever since.

"It's like a family once you come here." Draper said. "When I first got here I got to fight with Sampo, Alp, and Ricehouse every day. Who gets to get beat-up by, I didn't realize it at the time, some of the best guys in the world at their weight classes? I was 19 years old, so it was a big learning experience."

Despite taking some early lumps, Draper became one of the area's most feared amateurs amassing a record of 12-2 and was generally considered one of the area's very best at 145 pounds.

"Everything helps mold you," Draper said. "Whether it's inside the cage or outside the cage. You realize that there are a million different things to fighting. There's a strategy to fight height, weight, size, a mental fighter. There's a lot to it."

The time spent on the rugby pitch helped condition Draper for the toll that mixed martial arts can inflict on the body.

"It's a physically demanding sport." Draper said. "Plus I played that when I was in high school I was always the smallest guy. It's a rough and tumble sport. It really helped coming into this with all the body hardening."

Now with MMA becoming his primary obsession, Draper has taken up cycling to help cross train.

"I used to be a big runner, but I found that if you run too much it's bad on your knees," he said. "Just mixing it up it's fun to change things up. I like to hit a lot of trails that are big hills. I treat it like a race. I'll time myself throughout the workout. When you go through 25 minutes hard, it's almost like going through 25 minutes of a fight, and I only fight 15 now."

Prior to his last amateur fight this summer for Fight Hard MMA, Draper sustained a serious injury while working that would have sidelined most folks.

"Basically I fell roofing." Draper said. "Fell off the roof, it was raining and I hurt my back. I thought it was my back for the longest time. Come to find out it was bruised cartridge on the rib, whole bunch of fun stuff."

Despite the injury, he never considered pulling out of the fight.

"I was so excited," Draper said. "I had so many family members going. Who else gets to fight at the Family Arena. If you live in St. Charles, it's a big thing. Kids look up to that, and I always did. It was something I wanted to do and nothing was going to stop me. I was going to do what I wanted to do."

It was one last lesson before graduating to the pro ranks.

"That was a big eye opener," Draper said. "I never got really injured before a fight, and it was so close. It was a big learning experience to learn if you get injured, what do you do? You can't train the way you want to, and it becomes a mental fight more than anything."

One of the gripes Draper's coaches have always had is that he often goes M.I.A. Something that came to a head in a featherweight clash with Christian Camp last summer.

"I was in a bad place for that fight." Draper said. "I wasn't training. I didn't train for that fight at all. All I did was show up and cut weight."

Camp would go on to win a unanimous decision, snapping an eight-fight win streak. Draper headed back to the drawing board and it would take 14 months off before returning to win his last two amateur fights in dominating fashion.

"I went back to my roots." Draper said. "I've always been an athlete all of my life. I enjoy being in shape.I reworked a lot of stuff I was doing to train harder. I don't know what did it, but it all came together. I increased my training times 10."

In addition to a personal goal of one day fighting in Japan, Draper wants to be a world champion most of all.

"I'd like to be a world champion one day." Draper said. "I realize that I'm getting my but kicked in here every day, might as well do it for something. I really would, I'd like to be a champion one day."

Getting his start hasn't been easy as finding an opponent for his debut has been a bit of a challenge for the Rumble Time matchmaker.

"I've had two back out already." Draper said. "They both were really good. I was really disappointed they backed out. One was 12-2, and the other guy was 22-2 fighting out of Glory, I was really surprised he backed out."

On Sunday, it was announced the Joesph Schell would be his opponent on Friday.

"Doesn't matter who it is at this point," Draper said. "I'm in shape, I'm just ready to fight."