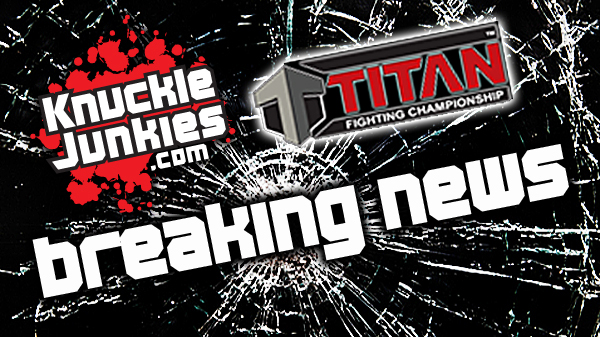 Breaking News: Titan inks deal for St. Louis events
It was announced Wednesday evening that Titan Fighting Championships will be hosting a nationally-televised event in mid-September in St. Louis.

Titan president Joe Kelly along with Rumble Time MMA will put on a night of fights at Dwight Davis Tennis Center in Forest Park; featuring a full card of professional and amateurs fighters from around the area.

For much more on this announcement, including comments from Kelly be sure to watch the Ground & Pound Show on Friday only at knucklejunkies.com.

The St. Louis show will air live on AXS TV (formerly known has HDNet)

"It's something that St. Louis has been waiting for," Rumble Time Promotions President/CEO Steve Smith said. "We plan on doing three or four shows here on AXS. Now we can get some of these local up--and-coming, tremendous young fighters careers showcased on national television. I can't wait to show the country that St. Louis has the future MMA superstars."

According to Smith, landing Titan in St. Louis is just the start of a budding partnership with Kelly.

"We have a lot of other things that we're trying to do with two other major networks that Joe and I are partnering to do," Smith said. "The AXS is a great situation but the networks we're close to getting things done with will pole vault all of us, including the St. Louis fighters and that is what it is all about."

Titan Fighting Championship was founded by Kelly, a fight aficionado who directed Titan to prominence on the national fight scene through the promotion of boxing and MMA events around the country, including televised events on HDNet, ESPN, Showtime, HBO, Fox Sports Net, and Metro Sports Titan.

Rumble Time Promotions has been a fixture in professional boxing for a number of years, hosting several shows on Showtime, ESPN, among others.