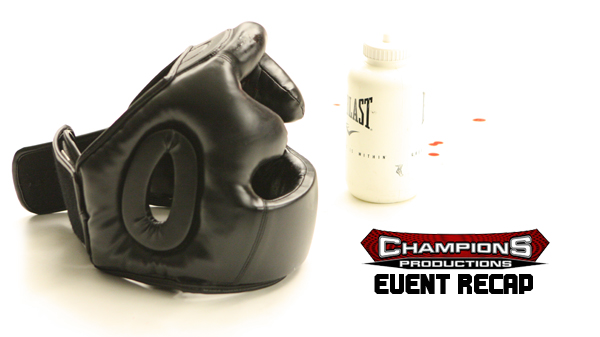 Brawl in the Ballroom Results
Full results from Friday, January 27, 2012 in Belleville, IL
Last night in front of a packed house at Fischer's Ballroom, Championship Productions put on one exciting show for fight fans. Several last minute drop outs poked some holes in the fight card, but the fighters who did fight put on a tremendous show. The highlight of the evening was a back and forth war between Katy Collins fighting out of Konvix Fight League and Liz Turpin a member of the River-City Warriors fight team out of St. Louis MMA. Turpin was triumphant by sinking in a rear naked choke at 1:31 in Round 2 and took home the Women's U.S. Title Belt.

Here is our recap of the card as we saw it:

135 K1: Cliff Workman vs Sheldon Smith
Winner: Sheldon Smith, Round 1 - TKO
Summary: Smith landed several solid rights before letting loose with a flurry of punches to force the ref to stop the fight. Sheldon Smith victorious with a TKO at 1:46 in Round 1.

160-170 MMA: Jason Newman vs Tobias Austin
Winner: Jason Newman, Round 1 - KO
Summary: A back and forth battle with Austin landing quality strikes. Newman delivers a wicked right and KOs Austin at 1:38 in Round 1.

145-150 K1: Martez Dean vs David DeRousse
Winner: David DeRousse - Unanimous Decision
Summary: The first round had both fighters landing big kicks and DeRousse putting together some good combinations. In round 2 both fighters were landing solid leg kicks with Dean also landing kicks to the body. DeRousse continues to put together a mix of combinations. Round 3, DeRousse knocks Dean off balance with kick to the leg. Dean unleashes a bunch of kicks to the body before the fight ends. To the judges...DeRousse wins by unanimous decision.

155-160 MMA: Jessie Coy vs Manuel Bijaro
Winner: Manuel Bijaro, Round 1 - Rear Naked Choke
Summary: Both fighters come out throwing leather neither connecting before locking up. Coy works for underhooks and secures a takedown. However, Bijaro ends up in the dominant position and takes advantage. Bijaro works for an arm bar before adjusting for better position, taking Coy's back and locking in the rear naked choke for the victory at 2:08 in round 1.

Heavy weight K1: Jonathon Stotler vs Bo Kunz
Winner: Bo Kunz, Round 1 - Doctor Stoppage
Summary: Kunz looks good early throwing some heavy rights that bloody Stotlers nose. He follows up with solid kicks to the body. Bo then lands a mean right to close the round. Unfortunately, the doctor steps in and stops the fight between rounds. Kunz wins by TKO 0:00 in Round 2.

145-150 MMA: Shawn Swisher vs Logan Hickerson
Winner: Logan Hickerson, Round 1 - TKO
Summary: Both fighters come out throwing. Hickerson stuffs a takedown attempt early. Back and forth action until Hickerson corners Swisher against the cage and works a couple combinations then finishes him with a right. Hickerson wins by TKO at 1:35 Round 1.

155 MMA: Ryan Anderson vs Brandon Surprise
Winner: Brandon Surprise, Round 1 - TKO
Summary: Fighters lock up and take the fight to the ground. Surprise takes the dominant position and works over Anderson's ribs. Anderson sweeps and ends up on top and working for an arm triangle. Surprise pops out and regains top control before eventually passing Anderson's guard. Surprise then works the ground and pound for the TKO victory at 1:55 Round 1.

Heavy weight MMA: Shawn Hogan vs Big Mike Wright
Winner: Mike Wright, Round 1 - TKO
Summary: Both fighters come out throwing haymakers. Wright starts landing blows effectively and starts landing combinations. Wright throws a quick left followed up by a fight ending right. Wright wins by TKO at :31 of Round 1.

165 MMA: Patrick Byrne vs Montuelle Prater
Winner: Montuelle Prater, Round 1 - Guillotine Choke
Summary: Prater opens the round with a leg kick and then worked a take down, but Byrne escapes and gets to his feet. They fight for control on the cage and Prater works a trip for the takedown. Byrne again escapes and take top control. Byrne then works his ground and pound. Work out of the mount Byrne extends too far and Prater grabs his neck locking on a guillotine. Byrne is forced to tap with only a few seconds left in the round.

170 MMA: Joe Nichols vs Ryan Cox
Winner: Ryan Cox, Round 1 - TKO
Summary: Cox lands a shot and works Nichols to the ground where he immediately starts to work his ground and pound. Multiple hammerfists by Cox, then a couple knees followed up by more striking leads to a :42 second KO win for Cox.

145-150 K1: Javon "Wolfman" Wright vs Sam Fretitis
Winner: Javon Wright, Round 2 - TKO
Summary: Wright lands a right left combo to knock down Fretitis. After a reset Fretitis lands a spin kick to knock Wright down. Wright then works knees and kicks followed up by strikes. Round 2 opens with more of the same crisp kicks and strikes from Wright. At the 1:06 mark Fretitis raises his hand to call an end to the fight. The Wolfman wins by TKO.

185 MMA: Mike Deckerd vs Jesse Farmer
Winner: Jesse Farmer, Round 1 - TKO
Summary: Farmer lands a couple of big shots and works Deckerd to the cage. Deckerd wraps up farmer and pulls him to the ground. Farmer passes guard and goes to work with his ground and pound. The ref stops the fight at 56 seconds into the first round and declares Farmer the winner.

Midwest Super Welter Weight Title - James Mottershead vs Demarko Montgomery
Winner: Dmarko Montgomery, Round 1 - Guillotine Choke
Summary: Quick exchange and the fighters end up on the ground with Montgomery working for a guillotine, first attempt fails. He re-positions and sinks it in deeper forcing Mottershead to tap. Montgomery only needed 32 seconds to secure the win and take home the title.

Women's U.S. Title - Katy Collins vs Liz Turpin
Winner: Liz Turpin, Round 2 - Rear Naked Choke
Summary: Collins rushes Turpin and ends up on the ground in her guard. Turpin rolls out and makes her way to top position. Collins works for an arm bar but Turpin picks her up and slams her way free. Collins works for a guillotine but cannot lock it in. Round 2 starts with a big left from Turpin. Both fighters are working for the takedown and eventually go to the mat. Turpin works for position and takes Collins back. Turpin works to sink a rear naked choke in and in unsuccessful in her first attempt. She adjusts and gets Collins to tap at 1:31 in round 2. Turpin wins the belt.