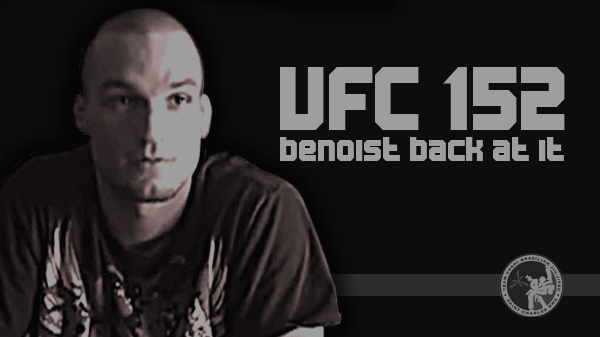 Benoist back at it
Three months away from his first professional loss, Lance Benoist returns to the UFC octagon, this time north of the border at Saturday's UFC 152 in Ontario, Canada.

Benoist (6-1), out of St. Charles MMA/Team Vaghi, stepped to the opportunity when veteran Dan Miller had to bow out of his bout with Sean Pierson due to his son's kidney transplant. UFC 152 is headlined by light heavyweight champion Jon Jones' title defense against Vito Belfort.

Benoist will be featured on the undercard and his bout with Pierson will be aired live on FX beginning at 7 p.m. CST Saturday marks Benoist's third fight for the UFC.

After opening his tenure with the organization with a Fight of the Night victory over Matt Riddle, Benoist lost a decision to Seth Baczynski (who's also on the 152 card). The Baczynski fight was a tried-and-true battle that ended a toss-up.

"Lance lost that last minute of every round," St. Charles MMA coach Mike Rogers said. "To me, he won the first four minutes of every round."

Benoist was packed with added weight that night in Octagon. The fight with Baczynski was just weeks away from Benoist losing his twin brother, Logan, when he died in a car accident.

"He's still hurting a lot but I think he's definitely a lot more focused now than he was for that one," Rogers said. "Obviously the last four weeks of his training camp, he really didn't have a training camp last time. He's in shape, he's strong and he's doing as good as he can be. I don't know how long it takes to get over something like that."

Come Saturday, the Festus-born Benoist will be battling a borderline elder statesman in the 36-year-old Pierson. The Canadian-born fighter is 12-6 and coming off a big win over fellow Missourian Jake Hecht, a comrade of SCMMA's who has often trained with Benoist and the SCMMA crew.

Benoist's game is starting to gain the eyes and raves of critics in the vast pool of the MMA/UFC blogosphere. His combination of grit, style, and creativity makes it easy to raise a glass to his performances.

Benoist's submission attempts have been nothing but slick; a standing arm triangle, omoplata and always smooth and aggressive from the back.

"Since we started jiu-jitsu with Rodrigo (Vaghi), it's always been thinking submission, submission, submission," Rogers said. "I think Lance really took that to heart."

Benoist, who can also move well in the stand up, never wrestled in high school but finished with more takedowns than his first two UFC opponents, who were both college wrestlers.

Benoist is a fight-day fighter and so far it's shown.
"He's not the king of the practice room," Rogers said. "But he's like the king of the cage, you know?"

UFC 152 weigh-ins are today at 3 p.m. and can be viewed live on Fuel TV.