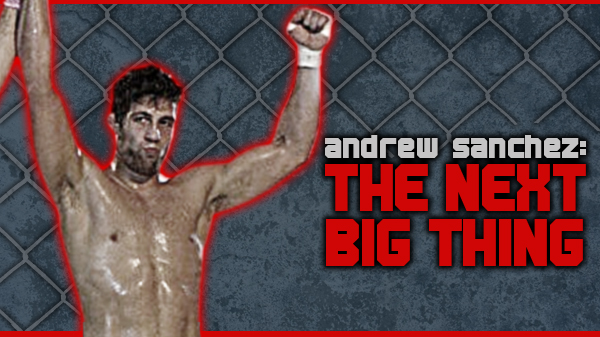 Andrew Sanchez: The Next Big Thing
Rodrigo Vaghi helped mold the careers of the UFC's Lance Benoist and Jake Ellenberger and he is about to unleash his latest weapon ontothe world.

Meet Andrew Sanchez.

When the man who brought jiu-jitsu to St. Louis declares someone a "special talent", people immediately start to take notice.

Sanchez, a life-long grappler, brings better than average wrestling credentials with him into the cage. In fact, to say he is simply a good wrestler is a bit of an understatement. As a member of the McKendree College in Lebanon, IL, Sanchez was a four time All-American and even more impressive two-time NAIA National Champion.

Using wrestling as his base, Sanchez quickly tore through the amateur MMA scene, looking more impressive and more versatile after every win. Understandably, it's hard to find opponents for this 23 year-old, who after last weekend improved to a perfect 6-0.

After depleting the local talent pool and finishing up his collegiate responsibilities, Sanchez decided to take his craft to the nextlevel. He tarted his MMA career working with Vaghi black belt "Brazillian" Mike. Sometimes the two would travel to Vaghi's home gym in Fenton and Sanchez found the competition there to just what he needed and decided to make a permanent switch. He currently holds a purple belt in jiu-jitsu under Vaghi, an instructor who is notoriously stingy with his belts.

After graduating from McKendree last year, he came to Vaghi looking for counsel about turning pro in MMA. The two immediately began working on improving Sanchez's game and preparing him for the next level of competition.

Confidence in Sanchez's ability has grown after a recent trip to Reign MMA, home of Mark Munoz, a UFC vet who knows a little bit about wrestling himself, earning two-time All-American honors and a national championship while at Oklahoma State University.

"I'm confident, I'm very confident," Vaghi said. " I took him to him to California with me to train with Jake (Ellenberger) when he was getting ready for his last fight. (Sanchez) did amazing sparring with those guys. Everyone there, from Babalu to everyone on, he held his own."

Many people will argue what is the best starting point for MMA, and more often than not, wrestling tops the list, so you can understandwhy people are very excited about Sanchez's prosepct.

"A high caliber like him, two times national champion, he's very special," Vaghi said.

Vaghi also believes that age is on Sanchez's side.

"Being young is definitely an edge," Vaghi said. "A lot of fighters hear that clock ticking and just want to cover the holes. He has enough time to grow."

Look for Sanchez's pro debut June 23rd when Cage Champsreturns to Sullivan, MO.