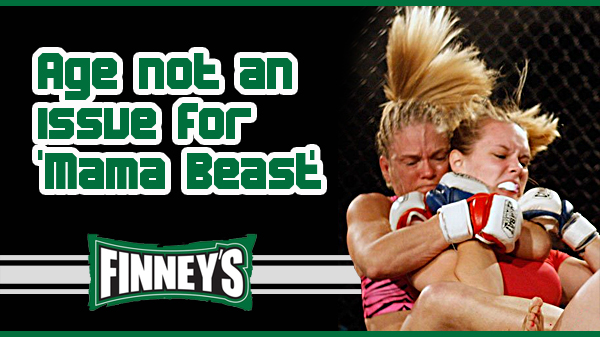 Age not an issue for 'Mama Beast'
Susie Wyatt, 46-years-old, single mother of four and a grandmother, will be stepping into the cage for her second amateur fight on Saturday when she faces Alisha Mills at Shamrock Promotions: Adrenaline.

"Age doesn't matter," Wyatt said. "As long as you are giving 100-percent, having fun, and enjoying what you do, that's what matters."

Wyatt's steely determination and grit is obvious around halls and walls at Finney's MMA and Hit Squad.

"She's tough and a hard worker," Jesse Finney said. "That's probably my favorite thing about her as a fighter and as a person."

It was just a couple of years ago that Wyatt went looking for a change.

Wyatt has always been into health and fitness and continues to share her knowledge and passion for better living through exercise as a personal trainer and fitness instructor.
But something was missing.

"I decided that I needed something for me," Wyatt said. "I was working out and I took a look at the kickboxing class and I said, 'I can do this.'"

The kickboxing classes were populated with men, which meant usually dealing with a multiple pound and multiple reach disadvantages.

"I could always have the technique but with no sparring there was so far I could go," Wyatt said.

That is when Wyatt segued from head kicks and punches to chokes and submissions.
Wyatt took to Brazilian Jiu-Jitsu like a duck to water and found nirvana.

"I love BJJ," Wyatt said. "It is all about technique versus size and strength. I got to compete on a daily basis. I have learned a lot from it. I may be 80 and I'll still be in there. I'll be doing BJJ my entire life."

Wyatt has won multiple medals at BJJ and grappling tournaments on an assortment of levels. Her first amateur fight ended with her victorious due to a rear naked choke.
"It's nice to know how I'm going to react in the cage," Wyatt said.

Wyatt has seen women's MMA slowly rise in the number of participants. Female fighters have gone from a rarity in St. Louis to more and more prominent.

"It's a sisterhood," Wyatt said. "We have to network some when it comes to sparring partners."

But at the rate that women are getting into the sport that may change sooner than later.

"In some of our BJJ classes, the girls outnumber the guys," Wyatt said. "There are some amazing women fighters coming up. It's a real exciting time."

In another women's fight on Saturday's card, Beckie Gullet will take on Sara Forsythe.